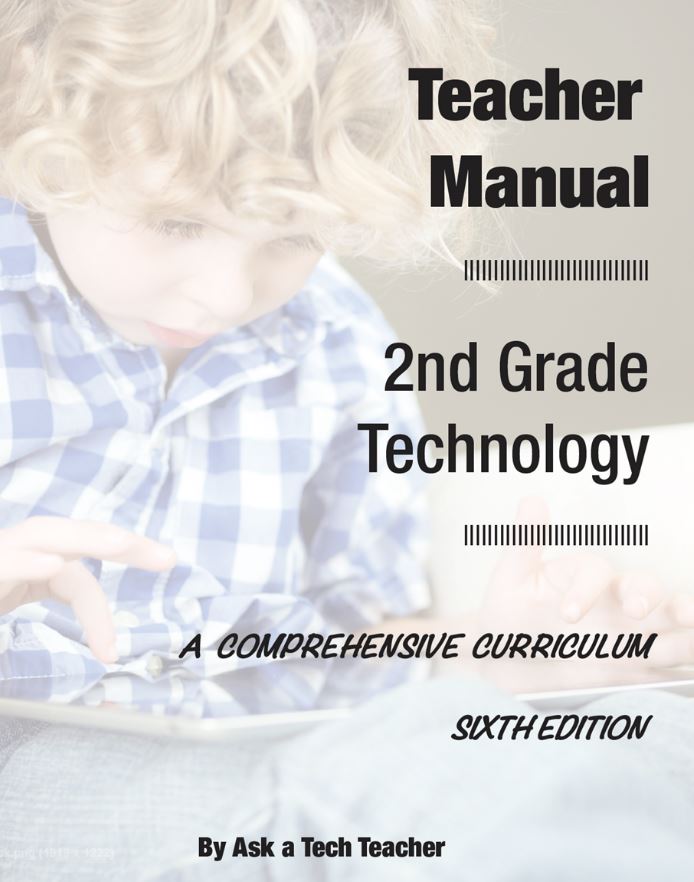 2nd Grade Technology Curriculum
Description
218 images
12 assessments
20 pedagogic articles
21 posters
32 weeks
2nd Grade Technology Curriculum is the third in a series designed to teach technology by integrating it into classroom inquiry. The choice of hundreds of school districts, private schools and homeschoolers around the world and tens of thousands of students, this nine-volume tech ed curriculum is the all-in-one solution to running an effective, efficient, and fun technology program for kindergarten-eighth grade (each grade level textbook sold separately) whether you are the lab specialist, IT coordinator, or classroom teacher.
Each lesson is aligned with both Common Core State Standards and  National Educational Technology Standards, and includes:
academic applications for lessons
additional resources
assessment strategies
big idea
class exit tickets
class warmups
Common Core Standards
domain-specific vocabulary
emphasis on comprehension/problem-solving/critical thinking/preparing for career and college
essential question
examples
focus on transfer of knowledge and blended learning, collaboration and sharing
grading rubrics
homework
how to extend learning
ISTE Standards
materials required
options for adapting lessons to a class or lab
options for adapting lessons to PCs, iPads, Chromebooks, or Macs
problem-solving for lesson
skills required for lesson and learned during lesson
steps to accomplish goals
teacher preparation required
time required to complete
Using a tested approach that promotes literacy, critical thinking, problem-solving, and decision-making, students learn the technology required to prepare for their future. The secret is providing the appropriate lessons at the right time.
Each book/ebook includes:
K-6 wide-ranging Scope and Sequence
K-8 technology curriculum map
32 weekly lessons
monthly homework (3rd-8th only)
student Certificate of Completion
comprehensive list of websites to support learning
articles that address tech pedagogy
posters ready to print and hang on your walls
With your purchase, you receive FREE access to a wealth of online resources (through our free companion wikis and blogs) including hundreds of teacher materials that differentiate instruction, websites that extend learning, a weekly video to show you how to teach the current lesson (via a free subscription included in the text) and free help from professionals using the curriculum.
2nd grade technology units include:
Coding/Programming
Develop Details
Digital Templates
Digital Tools in the Classroom
Google Earth
Graphic Organizers
Holiday Projects
Internet and Digital Citizenship
Internet Pictures
Intro
Keyboarding
My Body
Presentations
Problem Solving
Reading on the Internet
Reports
Slideshows
Spreadsheet formulae and summative
Stories with Words and Pictures
Tools and Toolbars
Website Evaluation
Where I Live
Word Processing—Intro and projects
Writing with Graphics
Why should you upgrade? Consider these changes:
aligned with computers, iPads, Chromebooks
perfect for both classroom and tech teachers
calls out higher order thinking skills
lists new and scaffolded skills in each lesson
shows academic applications for projects
perfect for project- and skills-based learning
highlights collaboration
warm-up and exit tickets for each lesson
includes a comprehensive list of assessments
lots more images and how-to's
includes curriculum map—by year and month
 Details
Perfect bound/Digital: 224 pages
Publisher: Structured Learning; Sixth Edition (August 2018)
Language: English
ISBN-13: 978-0978780029 and 978-1-942101-24-6
Product Dimensions: 11.6 x 9.7 x 0.9 inches
Purchase: PayPal, credit card (via PayPal), school Purchase Order
License: Single User
Get this teacher's manual FREE when you buy a class set of student workbooks
Note: Color and embedded links shown in preview are included in pdf only
Reviews
As I teach at a small independent school, we do not have all of the programs in the book, but Kali did a great job of providing alternative programs and ideas! Overall, an excellent resource, and I love how it's all thought-out for me:) –TPT Customer

---
Will really help me.   –TPT Customer

---
Great lessons, perfect for my younger students, now to decide which grade to purchase next! LOL  –TPT Customer
---
This is my first year in the computer lab and I was a bit lost as to where to begin. You are a life saver. Thank You! –TPT Customer
---
Great resource for my class.   –TPT Customer

---
Your lessons are always explicit and organized. My students enjoy them!  –TPT Customer
---
Program full of outstanding ideas. Thanks. –-TPT Customer
---
Gives you lots of ideas to use in your classroom  –TPT Customer

---
This is fantastic! –TPT Customer
---
Awesome!! My students will enjoy all of these activities!) —TPT Customer
---
I love that these lessons are sequential throughout the year! There are ideas in this unit that I didn't think about teaching to students at this level. I am very excited to get started with them this year! –TPT Customer

---
These are a great resource for my once a week technology class! –TPT Customer
---
Can't wait to start through your ideas! Sure wish I could get our Tech people to let us have Kid Pix again! I sure miss it. —TPT Customer
---
I have downloaded/ordered online the K-5 books. Love them. –TPT Customer

---
---
Structured Learning IT Team
is the premier provider of technology instruction books and ebooks to education professionals. Technology and keyboarding curriculums, how-to books, tips and tricks, a one-of-a-kind blog-based helpline—all the tools required to fulfill the tech needs of the 21stcentury classroom. All materials are classroom-tested, teacher-approved with easy-to-understand directions supported by online materials, websites, blogs, and wikis. Whether you are a new teacher wanting to do it right or a veteran educator looking for updated materials, 
Structured Learning
 and its team of technology teachers is there to assist you.
Ask a Tech Teacher is an award-winning resource blog run by a group of technology teachers. It has more than 60,000 visitors a month in search of resources and advice, offers oodles of free lesson plans, pedagogical conversation, website reviews and more. Its free newsletters and website articles are read by thousands, including teachers, homeschoolers, and anyone serious about finding the best way to maneuver the minefields of technology in education.