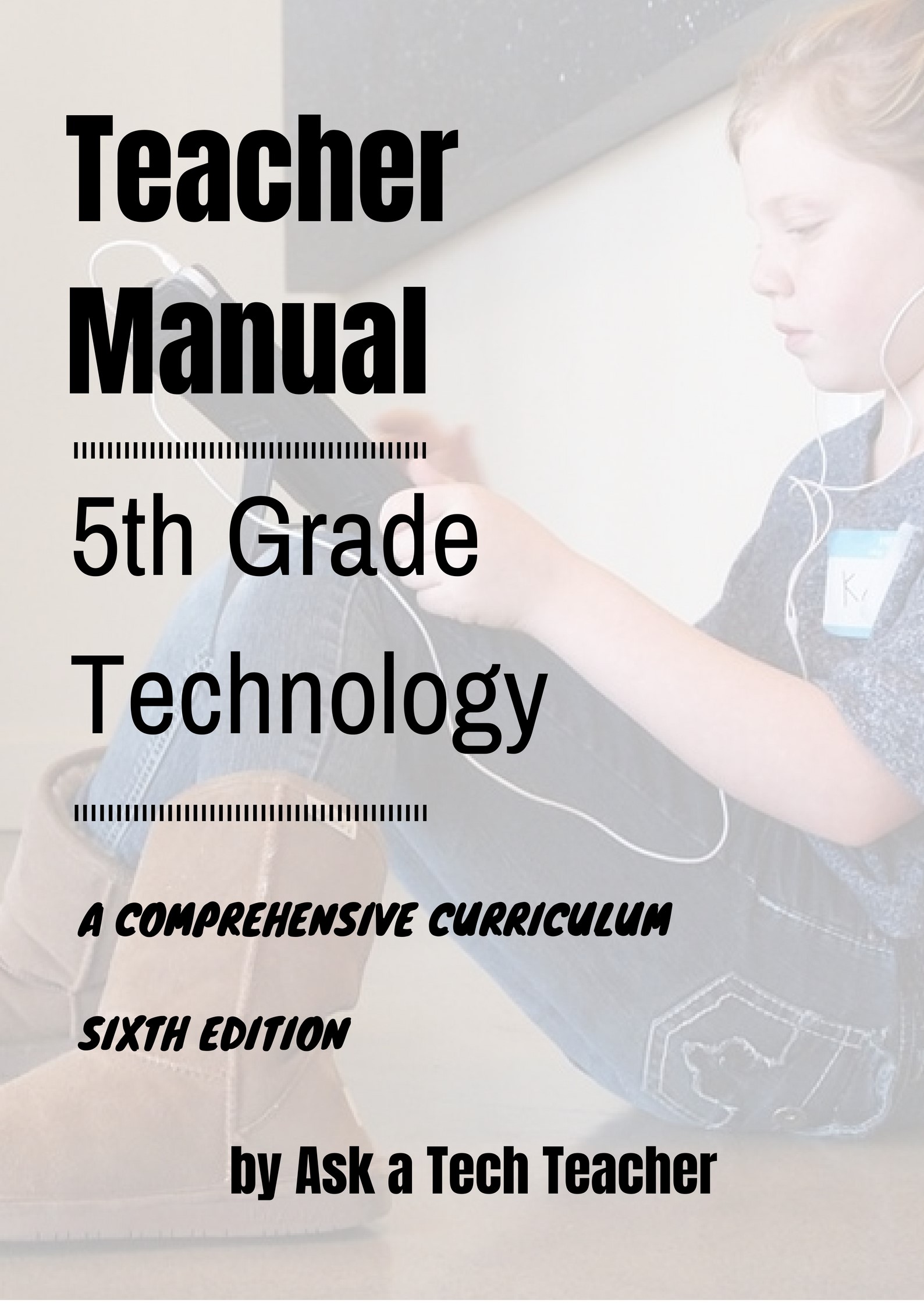 5th Grade Tech Curriculum
Description
233 images
24 assessments
14 pedagogic articles
21 posters
32 weeks
5th Grade Technology Curriculum is the sixth in a series designed to teach technology by integrating it into classroom inquiry. The choice of hundreds of school distr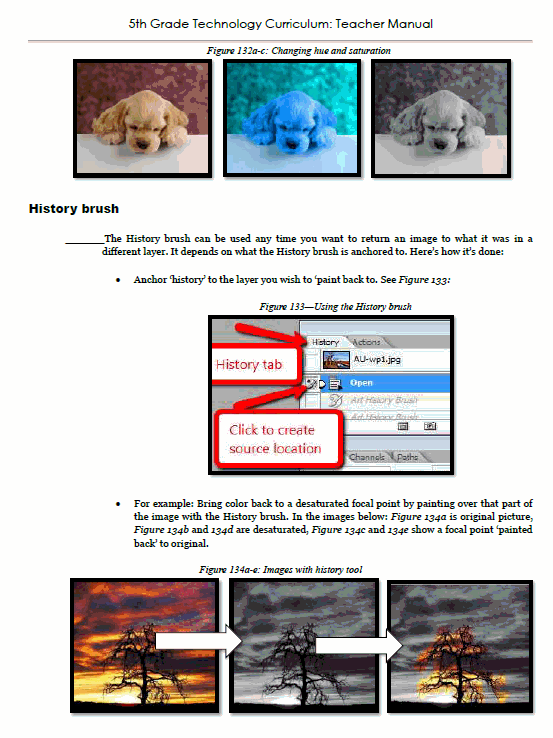 icts, private schools and homeschoolers around the world and tens of thousands of students, this nine-volume tech ed curriculum is the all-in-one solution to running an effective, efficient, and fun technology program for kindergarten-eighth grade (each grade level textbook sold separately) whether you are the lab specialist, IT coordinator, or classroom teacher.
Each lesson is aligned with both Common Core State Standards and  National Educational Technology Standards, and includes:
academic applications for lessons
additional resources
assessment strategies
big idea
class exit tickets
class warmups
Common Core Standards
domain-specific vocabulary
emphasis on comprehension/problem-solving/critical thinking/preparing for career and college
essential question
examples
focus on transfer of knowledge and blended learning, collaboration and sharing
grading rubrics
homework
how to extend learning
ISTE Standards
materials required
options for adapting lessons to a class or lab
options for adapting lessons to PCs, iPads, Chromebooks, or Macs
problem-solving for lesson
skills required for lesson and learned during lesson
steps to accomplish goals
teacher preparation required
time required to complete
Using a tested approach that promotes literacy, critical thinking, problem-solving, and decision-making, students learn the technology required to prepare for their future. The secret is providing the appropriate lessons at the right time.
The book/ebook includes:
K-5 wide-ranging Scope and Sequence
K-8 technology curriculum map
32 weekly lessons
monthly homework (3rd-8th only)
student Certificate of Completion
articles that address tech pedagogy
posters ready to print and hang on your walls
With your purchase, you receive FREE access to a wealth of online resources (through our free companion wikis and blogs) including hundreds of teacher materials that differentiate instruction, websites that extend learning, a weekly video to show you how to teach the current lesson (via a free subscription included in the text) and free help from professionals using the curriculum.
5th grade scaffolded tech units include:
Blogs
Coding/Programming
Digital Citizenship
Digital Tools in the Classroom
End-of-Year Challenge
Google Earth
Graphs
Graphic Organizers
Graphics and Photoshop
Internet Search
Intro
Keyboarding
Keyboarding and Science
Organizing Ideas
Problem Solving
Slideshows
Spreadsheet formulae and summative
Tables
Trifolds, Newsletter, Calendar
Website Evaluation
What Have I Learned
Writing with Graphics
Details
Perfect bound/Digital: 250 pages
Publisher: Structured Learning; Sixth Edition edition (August 2020)
Language: English
ISBN-13: 978-0978780050 and 978-1-942101-27-7
Product Dimensions: 11.6 x 9.7 x 0.9 inches
Purchase: PayPal, credit card (via PayPal), school Purchase Order
License: Single user
Curious? Here's a sample.
Get this Teacher Manual FREE when you buy a class set of student workbooks
Note: Color and embedded links shown in preview are included in pdf only
Reviews
This book is an excellent resource for my technology lesson planning.I have searched all summer for a book that encompasses the components of vocabulary, computer hardware,word processing,photo processing and more. Furthermore, the book is comprehensive, thorough and clear. It contains a step by step lesson, homework and assessments. I have searched many available teacher stores in the area. There are books that focus on the internet or only on Microsoft word, but only this book encompasses a wide range of age appropriate technology based standards! I am impressed with the excellent and thorough work of the authors! I recommend this book to teachers and students.  –Amazon customer
---
I have been very impressed with the computer skills my daughter has developed using this workbook. It is well put together and fun to use. It has been a valuable tool in her computer education. I highly recommend this book!!  –Amazon Customer
---
This workbook has been easy to follow and use for my fifth grader. She has improved her typing speed, is understanding computer vocabulary, and has learned many shortcuts with computer keyboarding. I will continue to use this resource in the upcoming years.  –Amazon customer
---
My son uses the fifth grade technology binder and I am thrilled with his progress. It is easy to understand and follow. I highly recommend this series.  –Amazon customer
---
I am just thrilled with the workbook my son Myles is using in computer class. It is well organized, easy to follow, and loaded with great techniques and homework assignments! I highly recommend it to all 5th graders who are learning the ins and outs of computer technology.  –Amazon customer
---
I had been moved out of the regular classroom and into teaching k-6 computers with no guidelines or curriculum to follow. I had built a rough plan on what to cover but knew I had holes and wasn't always consistent across the grades. I came across this series and thought I would start in the middle to see if I could build up and down from it. Once I had the book and started using it, I knew I needed the whole series. Why reinvent when the perfect answer as ready for me. I accomplished far more with my younger grades than I had thought I could. The lessons are ease to use, or adapt to my needs. I like the vocabulary included so I am stressing the same words across all grades.–Amazon Customer
---
This book is an excellent resource to have on hand when teaching technology to students. It provides the teacher with a scope and sequence that is available from kindergarten through 6th grade based on ISTE standards. I have referred to it while teaching middle school grades and used some of the resources. I would highly recommend adding this book to your professional books. Relevant and up-to-date.  –Amazon customer
---
I've taught for over 30 years and have purchased LOTS of educational teaching materials. This series (and other titles by this publisher) are the most useful tools I've ever bought. I have all levels of this K-5 series. They are my "textbooks." We have a very small budget and no purchased software to teach our computer classes, but these books point to great free downloads. The students love the engaging lessons, which build on each other from year to year. Once the free software is installed, many lessons can be done with little prior planning, thanks to the examples, etc., provided. Their approach to using troubleshooting pieces as lessons is a great example of active learning and especially appealing to boys. Technology teaching standards are covered, and lessons can easily address standards of other teaching areas so collaboration is streamlined. The series has kept this overworked teacher sane!–Amazon Customer
About the Author
Structured Learning IT Team
is the premier provider of technology instruction books and ebooks to education professionals. Technology and keyboarding curricula, how-to books, tips and tricks, a one-of-a-kind blog-based helpline—all the tools required to fulfill the tech needs of the 21stcentury classroom. All materials are classroom-tested, teacher-approved with easy-to-understand directions supported by online materials, websites, blogs, and wikis. Whether you are a new teacher wanting to do it right or a veteran educator looking for updated materials, 
Structured Learning
 and its team of technology teachers is there to assist you.