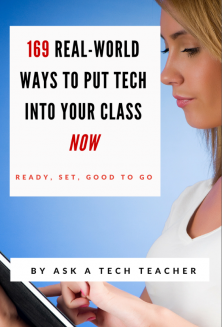 169 Real-World Ways to Put Tech into Your Class
Description of 169 Real-World Ways to Put Tech into Your Class
Several years ago, in an effort to create a practical strategy for technology success, I started tracking how often I got the same tech questions from students. Soon, I extended it to parents who, in a well-intentioned effort to help with school work, often got stuck on a techie issue. Some spent hours on a problem that could have been solved in minutes–if only they knew how to do that.
,,
Turns out, 70% of the time, it was the same 98 problems.
..
169 Real-World Ways to Put Tech Into Your Class Now (expected publication date: August 2016) provides 1) an overview of the tech topics most important to your teaching, and 2) practical strategies to address common classroom tech problems. Each tip is less than a page long–many only a third of a page. The goal: Give you what you need to know without a long learning curve. Topics include iPads, Chromebooks, assessment, differentiation, social media, security, writing, and more.
..
Here's a preview. Here are the top three solutions to any tech problem you encounter in your classroom:
… reboot, restart …
… close, reopen …
Google it!
Details
Digital: 139 pages
Publisher: Structured Learning (June, 2016)
Language: English
ISBN-13: 9978-1-942101-16-1
Curious? Here's a sample.
Reviews (of SL books/ebooks)
My daughter is using this as a text in her computer class at school. The lessons are easy to follow and informative. She has learned a lot so far this year. –Amazon customer
---
I now have all grades (K-5) and think of these as my bible for teaching! Thank you! –Teachers Pay Teachers Customer
---
I'm a new technology teacher K-8 and needed something for Kindergarten – this book is wonderful! I love it! Lessons are in-depth and will surely help my Kindergarten students gain technology skills that are age appropriate! –Amazon customer
---
This books provides lots of good ideas for computer teachers. The lessons are geared a little higher than my kindergardeners can handle, so I simplify a lot of the lessons. Many of the lessons use TuxPaint, so if you plan to use these lessons make sure you download it on all of your computers.  –Amazon customer
---
I have 3 children who all use the technology binders and they are so useful. You know what each lesson is and what they are learning. You also have the homework in there so everything you need is in one binder (which prevents lost sheets of paper). Definitely recommend this product.  –Amazon customer
---
This workbook is a great tool for helping your primary school student learn hands on skills for the computer. Typing exercises, key hardware terms and other activities are included and can be used pretty independently by the student. It's been a great tool for our 3rd grader and supplements the activities given in class. Would definitely recommend!
---
My daughter is using this book at the school she attends and loves it. It makes learning technology so easy for children. It organizes learning so that each lesson builds on what came before, and nothing's presented that children aren't ready for. This is the first of six–through fifth grade. I've seen the work of fifth graders who have used this since kindergarten. They edit photos in Photoshop and make movies using Pinnacle Studio. They do PowerPoint slideshows that look great. I'd recommend this series to anyone. –Amazon customer
About the Authors 
Structured Learning IT Team
is the premier provider of technology instruction books and ebooks to education professionals. Technology and keyboarding curricula, how-to books, tips and tricks, a one-of-a-kind blog-based helpline—all the tools required to fulfill the tech needs of the 21stcentury classroom. All materials are classroom-tested, teacher-approved with easy-to-understand directions supported by online materials, websites, blogs, and wikis. Whether you are a new teacher wanting to do it right or a veteran educator looking for updated materials, Structured Learning and its team of technology teachers is there to assist you. 
Ask a Tech Teacher© is a group of teachers, passionate about technology in education, who run the an award-winning resource blog Ask a Tech Teacher © with more than 75,000 visitors a month in search of teaching materials and advice. It offers oodles of free lesson plans, pedagogical conversation, website reviews and more. Its free newsletters and website articles are read by thousands, including teachers, homeschoolers, and anyone serious about finding the best way to maneuver the minefield of technology in education.