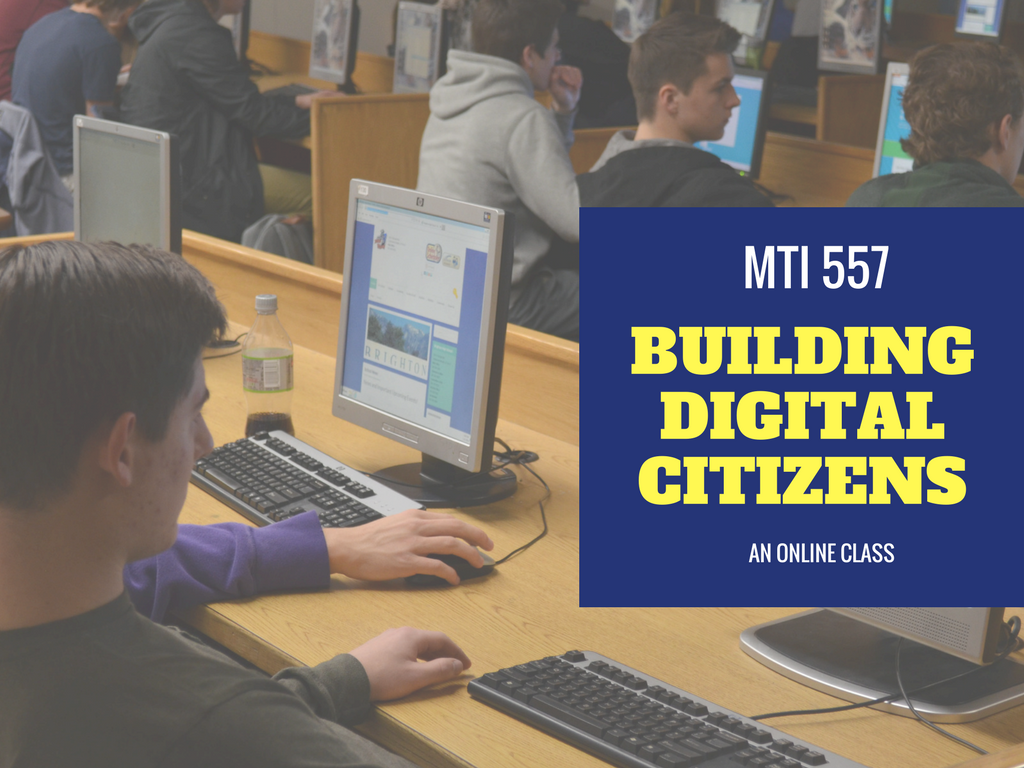 Building Digital Citizens MTI 557
If students use the internet, they must be familiar with the rights and responsibilities required to be good digital citizens.  In this class, you'll learn what topics to introduce, how to unpack them, and how to make them authentic to student lives.  
Topics include:
copyrights, fair use, public domain
cyberbullying
digital commerce
digital communications
digital footprint, digital privacy
digital rights and responsibilities
digital search/research
image—how to use them legally
internet safety
netiquette
passwords
plagiarism
social media
Assessment is based on involvement, interaction with classmates, completion of projects, and participation in weekly virtual meetings. Price includes course registration, college credit, and all necessary materials.
To purchase: Click Buy; Scroll down page to MTI 557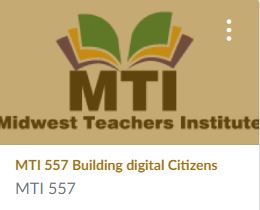 Course:
MTI 557–Building Digital Citizens
Sessions in Winter, Summer, and Fall
What You Get

5 weeks
4 virtual meetings
Unlimited coaching during virtual face-to-face meetings and other pre-arranged times. We stay until everyone leaves.
3 college credits
Course Objectives
At the completion of this course, you will be able to:
Know how to blend digital citizenship into lesson plans that use the Internet
Be comfortable in your knowledge of all facets of digital citizenship
Become an advocate of safe, legal, and responsible use of online resources
Exhibit a positive attitude toward technology that supports learning
Exhibit leadership in teaching and living as a digital citizen
Who Needs This
This course is designed for classroom teachers, tech teachers, integration specialists, media specialists, LMS, administrators, principals, homeschoolers, teachers of teachers, and pre-service professionals who:
Class teachers, lab teachers, administrators, LMSs, parents, homeschoolers
Teachers who are tasked with providing a safe tech-infused learning environment for students
What Do You Need to Participate
Internet connection
Accounts for Canvas (free–you'll get an invite to respond to)
Google account (can be your school account or your personal one)
Ready and eager to commit 5-10 hours per week for 5 weeks to learning tech
Commitment to review materials prior to the virtual meeting (so you are prepared to address questions with classmates)
Risk-takers attitude, inquiry-driven mentality, passion to optimize learning and differentiate instruction
NOT Included:
Standard software assumed part of a typical ed tech set-up
Tech networking advice
Assistance setting up hardware, networks, infrastructure, servers, internet, headphones, microphones, phone connections, loading software (i.e., Office, Photoshop).
Curious? Here's a syllabus
This slideshow requires JavaScript.
 What Students Think of Ask a Tech Teacher Classes
 To say I have learned a lot in the past five weeks of my online class is an understatement. I have attended Google Hangouts, learned about wikis, back channels, created a blog, and even tweeted!
---
I would like to close by saying how much I enjoyed this class. I truly learned so much. As a technology teacher I was not sure what to expect from this course. I found that much of what I currently do in the classroom has been validated. However and more importantly, I learned many new instruction and assessment strategies (along with some new tech tools) that I can now use and apply to improve the learning in my classroom. Thanks everyone!
About the Mentors
Ask a Tech Teacher© is a group of teachers, passionate about technology in education, who run the an award-winning resource blog Ask a Tech Teacher © with more than 75,000 visitors a month in search of teaching materials and advice. It offers oodles of free lesson plans, pedagogical conversation, website reviews and more. Its free newsletters and website articles are read by thousands, including teachers, homeschoolers, and anyone serious about finding the best way to maneuver the minefield of technology in education.
Jacqui Murray has been teaching K-18 technology for 25 years. She is the editor of a K-8 technology curriculum, K-8 keyboard curriculum, K-8 Digital Citizenship curriculum, and creator of dozens of technology training books and webinars for how to integrate tech into ed. She is webmaster for six blogs, Master Teacher, adjunct professor in tech ed, an Amazon Vine Voice, CSTA presentation reviewer, CAEP reviewer, adjunct professor, freelance journalist on tech ed topics, and a weekly contributor to TeachHUB.