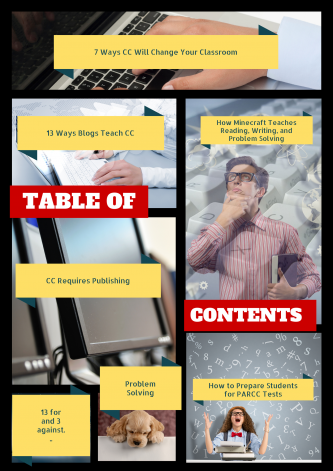 Common Core: 7 Articles
Description of Common Core Articles

7 most requested articles on Common Core from Ask A Tech Teacher© on topics like how blogging makes students better writers, Minecraft and Common Core, and more. Each 1-2 pages long. 24 pages in all.
If you're a K-8 class teacher, an Administrator, a library media specialist, you are expected to integrate technology into Common Core. This Bundle provides effective options for using technology to differentiate your approach to meeting the Standards. Better, faster, more fun.
Digital delivery only
Articles included:
7 Ways Common Core Will Change Your Classroom
13 Ways Blogs Teach Common Core
How Minecraft Teaches Reading, Writing, and Problem Solving
Common Core requires publishing. Technology makes that
happen
How to Prepare Students for PARCC Tests
13 Reasons For and 3 Against Technology in the Classroom
How to Teach Students to Solve Problems
Reviews of SL Tech ebooks/books
You are phenomenal! –SL customer
---
So excited my principal approved a lot of resources from structured learning –SL customer
---
Your staff is amazing. So fast to help and so thorough. I am so appreciative. –SL customer
---
This books provides lots of good ideas for computer teachers. The lessons are geared a little higher than my kindergardeners can handle, so I simplify a lot of the lessons. Many of the lessons use TuxPaint, so if you plan to use these lessons make sure you download it on all of your computers. –Amazon customer
---
About the Authors
Jacqui Murray has been teaching K-8 technology for 15 years. She is the editor of a K-8 technology curriculum, K-8 keyboard curriculum, K-8 Digital Citizenship curriculum, and creator of technology training books for how to integrate technology in education. She is webmaster for six blogs, CSG Master Teacher, an Amazon Vine Voice book reviewer, Editorial Review Board member for Journal for Computing Teachers, Cisco guest blogger, a columnist for Examiner.com, featured blogger for Technology in Education, IMS tech expert, and a monthly contributor to TeachHUB. Currently, she's editing a techno-thriller that should be out to publishers next summer. Contact Jacqui at her writing office or her tech lab, Ask a Tech Teacher.
Ask a Tech Teacher© is a group of tech teachers who run the an award-winning resource blog with more than 75,000 visitors a month in search of teaching materials and advice. It offers oodles of free lesson plans, pedagogical conversation, website reviews and more. Its free newsletters and website articles are read by thousands, including teachers, homeschoolers, and anyone serious about finding the best way to maneuver the minefield of technology in education.