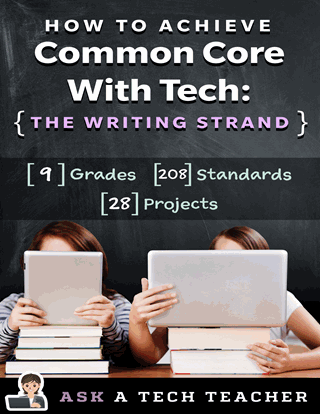 Common Core–Writing
257 pages, 28 projects, over 200 Common Core standards, for 9 grades (K-8).
How to Achieve Common Core with Tech—the Writing Strand is part of a five-volume series that focuses on using technology to meet Common Core standards in Language, Math, Reading, Speaking/Listening, and Writing. Consider these expectations (from Common Core, but truncated for brevity):
Expect students to demonstrate sufficient command of keyboarding to type a minimum of one page [two by fifth grade] in a single sitting
Expect students to evaluate different media (e.g., print or digital …)
Expect students to gather relevant information from print and digital sources
Expect students to integrate and evaluate information presented in diverse media and formats
Expect students to interpret information presented visually, orally, or quantitatively (e.g., … interactive elements on Web pages)
Expect students to make strategic use of digital media
Expect students to use glossaries or dictionaries, both print and digital …
Expect students to use information from illustrations and words in print or digital text
Expect students to use a variety of media in communicating ideas
Expect students to use technology and digital media strategically and capably
Expect students to use text features and search tools (e.g., key words, sidebars, hyperlinks) to locate information
…and this Common Core note:
New technologies have broadened and expanded the role that speaking and listening play in acquiring and sharing knowledge and have tightened their link to other forms of communication. Digital texts confront students with the potential for continually updated content and dynamically changing combinations of words, graphics, images, hyperlinks, and embedded video and audio.
Technology–the Standard's go-to tool. Each volume in this series shows you what technology to use and when without taking a lot of extra time out of your crowded schedule.
This volume–Writing–includes twenty-eight projects for K-8, each showing how technology makes achieving Common Core writing standards intuitive, time-saving, and exciting for students with a natural love of all things digital. Lessons cover 208 Common Core Standards in speaking/listening, language, reading, math and writing. Lesson topics include:
The Debate
Digital Book Report
Digital Newsletter
Digital Trifold
Event Sequences
Digital Timelines
Digital Storytelling
Write with Twitter
Digital Letter Writing
Write with Tables
Write with Graphic Organizers
Write with Magazines
Develop Details
Basics: Keyboarding
Basics: Word Processing
Web-based Writing Tools
Digital Note-taking
Presentation Boards
Discussion Boards
Internet Research
Plagiarism
Brainstorming
Genius Hour
Blogs
Digital Greeting Cards
Digital Quick Writes
Digital Quick Stories
Write an Ebook
Each lesson includes
Common Core standards addressed
NETS-S Standards addressed
Vocabulary used
Time Required
Grade level recommended and suggested background
Essential Question
Big Idea
Materials required and teacher preparation
Step-by-step directions
Help with tech problems
Extensions—how to differentiate and dig deeper
A note: These ebooks are not intended to teach Common Core Standards. What these books show is how to use technology to teach.
Details

Digital: 257 pages
Publisher: Structured Learning (November 2013)
Language: English
ISBN: 978-0-9893690-5-3
Buy all four strands: Click here
Curious? Here's a preview:
About the Author
Ask a Tech Teacher
is an award-winning resource
blog
run by a group of technology teachers. It has
more than 60,000 visitors a month in search of resources and advice,
offers oodles of free lesson plans, pedagogical conversation, website reviews and more. Its free newsletters and website articles are read by thousands, including teachers, homeschoolers, and anyone serious about finding the best way to maneuver the minefields of technology in education.