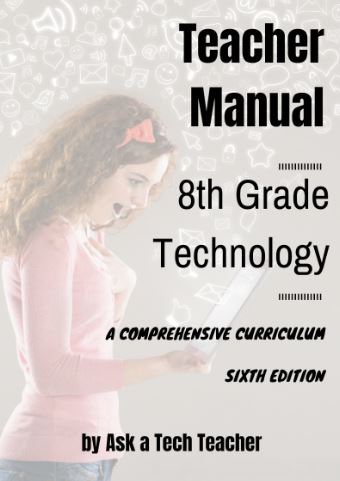 8th Grade Technology Curriculum
Description
8th Grade Technology is the ninth in a series designed to teach technology by integrating it into classroom inquiry. The choice of  hundreds of school districts, private schools and homeschoolers around the world, this nine-volume suite is the all-in-one solution to running an effective, efficient, and fun technology program for kindergarten-eighth grade (each grade level textbook sold separately) whether you're the lab specialist, IT coordinator, or classroom teacher.
The 32-week 8th-grade technology curriculum is designed with the unique needs of middle school technology IT classes in mind. Textbook includes:
229 images
21 assessments
19 articles
Grade 6-8 wide-ranging Scope and Sequence

Grade 6-8 technology curriculum map
32 weeks of lessons, taught using the 'flipped classroom' approach

monthly homework (3rd-8th only)
posters ready to print and hang on your walls
Each lesson is aligned with both Common Core State Standards and National Educational Technology Standards and includes:
academic applications for lessons
additional resources
assessment strategies
big idea
class exit tickets
class warmups
Common Core Standards
domain-specific vocabulary
emphasis on comprehension/problem-solving/critical thinking/preparing for career and college
essential question
examples
focus on transfer of knowledge and blended learning, collaboration and sharing
grading rubrics
homework
how to extend learning
ISTE Standards
materials required
options for adapting lessons to a class or lab
options for adapting lessons to PCs, iPads, Chromebooks, or Macs
problem-solving for lesson
skills required for lesson and learned during lesson
steps to accomplish goals
teacher preparation required
time required to complete
Learning is organized into units that are easily adapted to the shorter class periods of Middle School. They include:
Community Outreach
Digital Citizenship
Digital Tools Used in the Classroom
Engineering and Design
Grading with Spreadsheets
Keyboarding
Programming with Alice
Problem Solving
Robotics
Search/Research
Service Learning and Tech
Sketch-up
Visual Learning
Web Communication Tools
Word Certification
Additionally, 8th Grade Technology Units are collected under Themes. Teachers can adopt several themes per grading period or break them up throughout the year. Themes include:
Basics
Collaborate/Publish/Present
Digital citizenship
Logical thinking
Programming
Search/research
Teachers can organize classes by the 14 units or more broadly by the 6 themes.
Why should you upgrade? Consider these changes:
aligned with computers, iPads, Chromebooks
perfect for both classroom and tech teachers
calls out higher order thinking skills
lists new and scaffolded skills in each lesson
shows academic applications for projects
perfect for project- and skills-based learning
highlights collaboration
warm-up and exit tickets for each lesson
includes a comprehensive list of assessments
lots more images and how-to's
includes curriculum map—by year and month
Details of 8th Grade Technology

Perfect bound/Digital: 225 pages
Publisher: Structured Learning (March 2019)
Language: English
ISBN-13: 978-0-9893690-1-5
Product Dimensions: 11.6 x 9.7 x 0.9 inches
Purchase: PayPal, credit card (via PayPal), school Purchase Order
Shipping Weight: 9.6 ounces (free shipping on combo)
Curious? Here's a preview:
Get this Teacher's Manual FREE when you buy a class set of student workbooks
Note to readers: Color shown in the sample image gallery is included in PDF version only, sold separately.
 These digital books work well on the following digital devices:
Reviews (of SL tech ed books/ebooks)
I am a new 8th Grade technology teacher for my school district. I am comfortable with computers but I didn't know how to translate that into lessons for my students. I searched around and finally (FINALLY!) found the Structured Learning textbooks! They are so easy to understand and make really good sense as you proceed through the book. The kids LOVE the projects (especially engineering and design where they do bridge building– check those out!), Learn Through Service, Programming (yes, programming!) and the Word Certification unit. There are so many projects you couldn't get through them all in one year. They're very contemporary and keep the kids engaged. Other teachers in my school struggle so much to keep their students involved but mine really love coming to class. This generation already does so much on computers that doing projects and learning on them is not even considered schoolwork!
_________________________________________________________________________________________________________________________________________________________
These books are really great, definitely check them out!  –Amazon customer
---
Amazing curriculum!!! Thank you so much! –Teachers Pay Teachers Customer
---
This looks like something I can adapt to use with my exploring engineering class. –TPT Customer

---
This books provides lots of good ideas for computer teachers.  –Amazon customer
---
I have taught middle school technology courses for several years and try hard to keep adding new things to my courses. I purchased the 7th and 8th grade Tech Lessons and the K-6 Digital Citizenship books. I have found them very useful and well organized. They not only correlate to the ISTE Standards but also the Common Core. The information in these books have helped to complete the paperwork that schools require for lesson plans, curriculum maps improvement processes and more. This lessons are complete and interesting. They have helped me include lessons and topics that I had not thought of on my own. They are a great source for technology teachers.  –Amazon customer
---
This workbook is a great tool for helping your primary school student learn hands on skills for the computer. Typing exercises, key hardware terms and other activities are included and can be used pretty independently by the student.  Would definitely recommend! —TPT Customer

---
Lots of great sites and activities for 8th grade and beyond. I will use this in my Keyboarding classes (7th & 8th) as well as my Computer Applications class. –Amazon customer
About the Author

Structured Learning IT Team
is the premier provider of technology instruction books and ebooks to education professionals. Technology and keyboarding curriculums, how-to books, tips and tricks, a one-of-a-kind blog-based helpline—all the tools required to fulfill the tech needs of the 21stcentury classroom. All materials are classroom-tested, teacher-approved with easy-to-understand directions supported by online materials, websites, blogs, and wikis. Whether you are a new teacher wanting to do it right or a veteran educator looking for updated materials,
Structured Learning
and its team of technology teachers is there to assist you.
Ask a Tech Teacher
is an award-winning resource
blog
run by a group of technology teachers. It has
more than 60,000 visitors a month in search of resources and advice,
offers oodles of free lesson plans, pedagogical conversation, website reviews and more. Its free newsletters and website articles are read by thousands, including teachers, homeschoolers, and anyone serious about finding the best way to maneuver the minefields of technology in education.