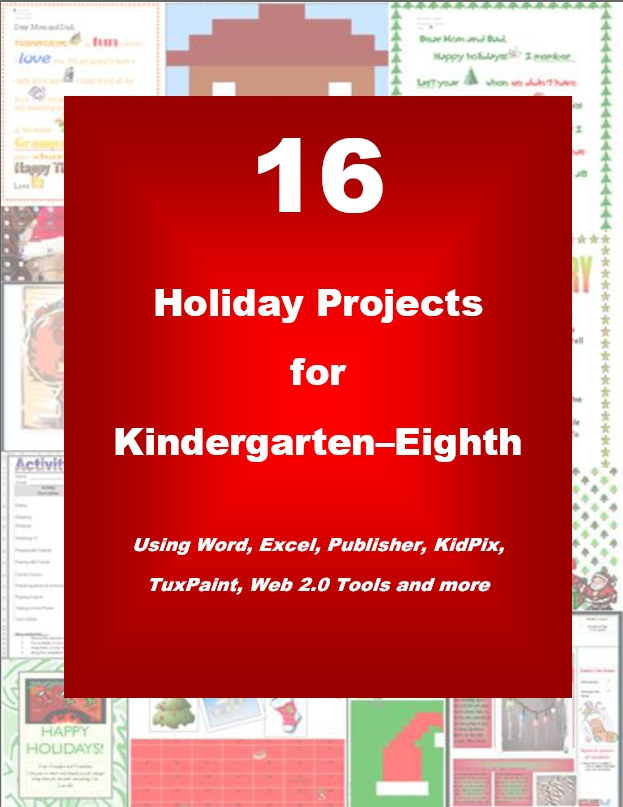 Holiday Tech Projects for K-8
Description
Holiday Tech projects–16 of them, student-tested by kindergarten through eighth grade using Word, Excel, Publisher, KidPix, TuxPaint, Web 2.0 tools and more. They're from the team of A
sk a Tech Teacher
technology teachers, designed to be fun and festive, while teaching important tech skills. Use them for any holiday. They'll fill your year with pictures, calendars, wallpaper, cards, that kids will love making and want to give to family as gifts.
Digital delivery only.
Detail on Holiday Tech Projects
Digital: 45 pages
Publisher: Structured Learning (October, 2011)
Language: English
ISBN-13: 978-0-9845881-2-1
Shipping Weight: Digital delivery
Curious? Here's a preview:
Reviews of SL Tech Ed books
Excellent projects for my lab. Thanks! TPT customer
---
Thanks! Most of these projects are flexible as to the holiday you use it for–just adapt. I love the wallpaper. So quick and effective. –TPT customer
---
The wallpaper is really fun for all grade levels. They get excited to see what the class before them left on their desktop!   –TPT customer
---
These are fun projects that can be done for any holiday–just change the focus. The Windows wallpaper is one of my favorites.   –TPT customer
---
Students enjoyed making a Halloween story and learned new tools of borders and callouts found in Word. —TPT customer
---
 I can't wait to try these! –TPT customer
---
This looks great!   –TPT customer
---
---
About the Author
Structured Learning IT Team is the premier provider of technology instruction books and ebooks to education professionals. Technology and keyboarding curricula, how-to books, tips and tricks, a one-of-a-kind blog-based helpline—all the tools required to fulfill the tech needs of the 21st century classroom. All materials are classroom-tested, teacher-approved with easy-to-understand directions supported by online materials, websites, blogs, and wikis. Whether you are a new teacher wanting to do it right or a veteran educator looking for updated materials, Structured Learning and its team of technology teachers is there to assist you.