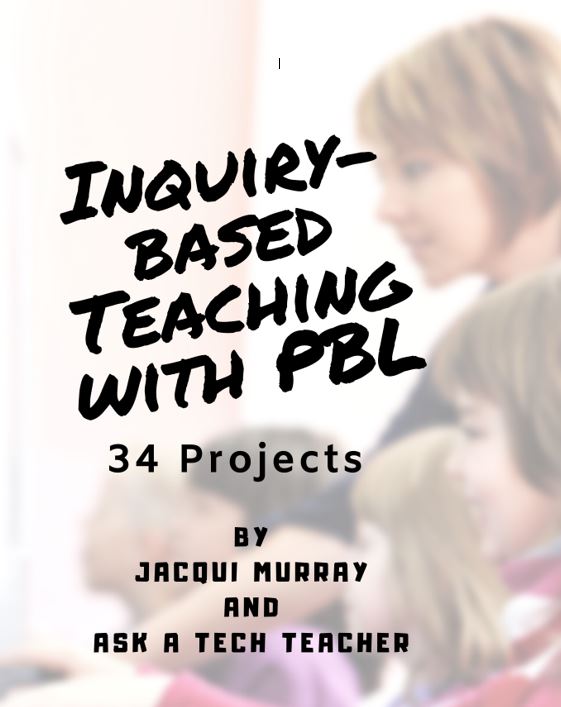 K-6 Inquiry-based Lesson Plans
Description
34 Inquiry-based projects for K-6 that use project-based learning in inquiry activities to teach critical thinking and problem-solving. Each lesson includes an overview, steps, core collaborations, time required, ISTE standards, troubleshooting, and web-based tools to support learning. Lessons are fluid with a focus on publishing and sharing. Reflection is integral to projects. Projects include Talking Pictures, Shape Stroll, Picture the Details, Brainstorming, Life Cycle Reports, Digital Citizenship, Venn Diagrams, Landforms, Avoid Cyberbullying, Tessellations, Twitter in Education, and more.
Book includes an introduction with discussions on project-based learning and popular inquiry methodologies like the Socratic Method and the Inquiry-based Classroom.
Lesson plans include projects with:
Animoto
Big Huge Labs
Book reviews by characters
Classify animals like a pro
Digital Portfolios
GE Literary Tour
Glogster instead of Posters
how to survive on landforms
IPad 101
prepare for tests with online puzzlemakers
Scratch
Tessellations
timelines
Venn Diagrams
Digital Citizenship
Formulas in Excel
keyboarding
QR Codes
Twitter in Education
Details
Digital: 111 pages
Publisher: Structured Learning (February 2020)
Language: English
ISBN-13: 978-1-942101-51-2
Curious?
Download this preview
Love the product. Will look at buying more soon. –TPT customer
---
Excellent! –Teachers Pay Teachers Customer
---
Great resource for my class. —TPT customer
---
Great resource! –TPT customer
---
About the Authors
Structured Learning IT Team
is the premier provider of technology instruction books and ebooks to education professionals. Technology and keyboarding curricula, how-to books, tips and tricks, a one-of-a-kind blog-based helpline—all the tools required to fulfill the tech needs of the 21stcentury classroom. All materials are classroom-tested, teacher-approved with easy-to-understand directions supported by online materials, websites, blogs, and wikis. Whether you are a new teacher wanting to do it right or a veteran educator looking for updated materials, 
Structured Learning
 and its team of technology teachers is there to assist you.
Ask a Tech Teacher
is an award-winning resource
blog
run by a group of technology teachers. It has
more than 60,000 visitors a month in search of resources and advice,
offers oodles of free lesson plans, pedagogical conversation, website reviews and more. Its free newsletters and website articles are read by thousands, including teachers, homeschoolers, and anyone serious about finding the best way to maneuver the minefields of technology in education.