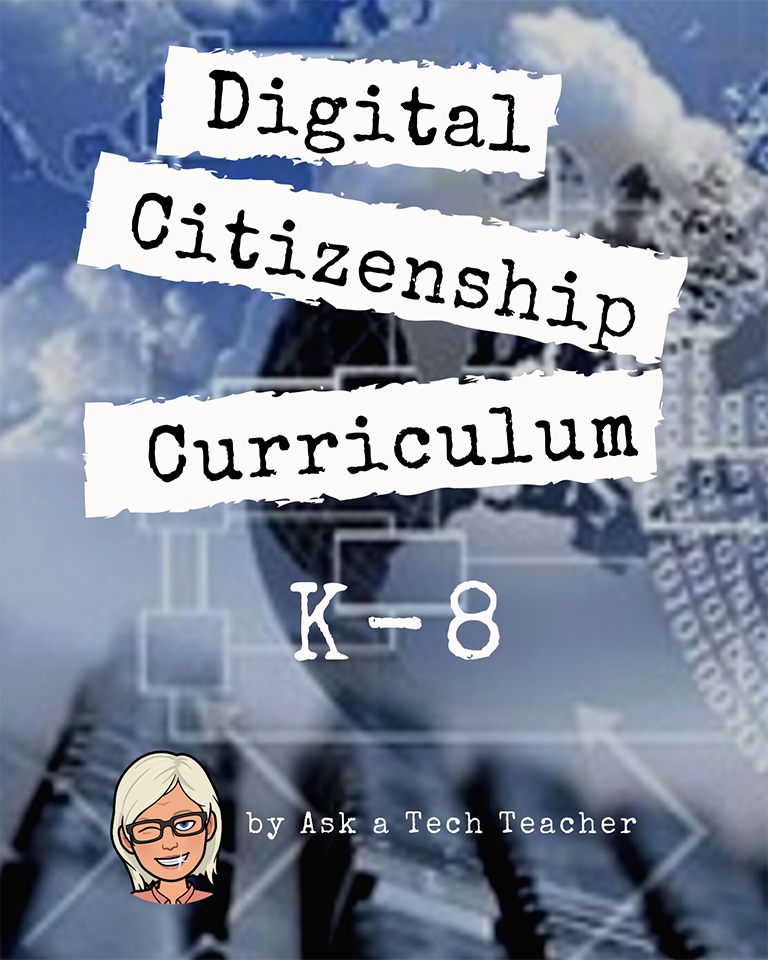 Digital Citizenship Curriculum–K-8
Description
9 grade levels
17 topics
46 lessons
46 projects
7 posters
A year-long curriculum that covers everything you need to discuss on internet safety and efficiency.
Digital Citizenship–probably one of the most important topics students will learn between kindergarten and 8th and too often, teachers are thrown into it without a roadmap. Well, here it is–your guide to what our children must know at what age to thrive in the community called the internet. It's a roadmap for blending all pieces into a cohesive, effective student-directed cyber-learning experience that accomplishes ISTE's general goals to:
Advocate and practice safe, legal, and responsible use of information and technology
Exhibit a positive attitude toward using technology that supports collaboration, learning, and productivity
Demonstrate personal responsibility for lifelong learning
Exhibit leadership for digital citizenship
Topics include:
cyberbullying
digital citizenship
digital commerce
digital communications
digital footprint
digital law
digital privacy
digital rights and responsibilities
digital search/research
fair use/public domain
image copyrights
internet safety
netiquette
plagiarism
passwords
social media
stranger danger
Each grade level includes 3-8 lessons, 3-8 projects, and a full year of instruction in non-sequential order that fits nicely into your school schedule or current technology curriculum. It can take the entire 45-minute class if you have time or multiple pieces of various classes.
Details of Digital Citizenship Curriculum

Perfect bound/Digital: approx. 64 pages
Publisher: Structured Learning (publication date version 2.6: August 2019)
Language: English
ISBN-13: 978-1-942101-40-6
Product Dimensions: 8×10
License: Single user
Curious? Here's a sample.
Reviews of SL Tech ebooks/books
This is a wonderful resource to teach our students about Digital Citizenship. I've seen many resources online, but this provides the perfect vehicle to ensure proper scaffolding. Thanks! —TPT Customer
---
This is a wonderful resource! I am so excited to use it with my students. Thank you! This is exactly what I was hoping to find, but didn't think it existed. Thank you! –Teachers Pay Teachers Customer
---
I am new to teaching technology, so this is a time saver. Thanks for creating this. It will definitely be used in my K-8 classroom. –TPT Customer
---
Very usable and exactly what I was looking for!   –TPT Customer
---
Excellent lay out and easy to follow. My students will love all the activities! –TPT Customer
---
Super curriculum! –TPT Customer
---
I have taught middle school technology courses for several years and try hard to keep adding new things to my courses. I purchased the K-6 Digital Citizenship book and the 7th and 8th technology Lessons books.. I have found them very useful and well organized. They not only correlate to the ISTE Standards but also the Common Core. The information in these books have helped to complete the paperwork that schools require for lesson plans, curriculum maps improvement processes and more. This lessons are complete and interesting. They have helped to lessons for my 6th and 7th grade courses even though they only say K-6. They are a great source for technology teachers.  –Amazon Customer

About the Authors
Structured Learning IT Team is the premier provider of technology instruction books and ebooks to education professionals. Technology and keyboarding curricula, how-to books, tips and tricks, a one-of-a-kind blog-based helpline—all the tools required to fulfill the tech needs of the 21st century classroom. All materials are classroom-tested, teacher-approved with easy-to-understand directions supported by online materials, websites, blogs, and wikis. Whether you are a new teacher wanting to do it right or a veteran educator looking for updated materials, Structured Learning and its team of technology teachers is there to assist you.
Ask a Tech Teacher© is a group of teachers, passionate about technology in education, who run the an award-winning resource blog Ask a Tech Teacher © with more than 75,000 visitors a month in search of teaching materials and advice. It offers oodles of free lesson plans, pedagogical conversation, website reviews and more. Its free newsletters and website articles are read by thousands, including teachers, homeschoolers, and anyone serious about finding the best way to maneuver the minefield of technology in education.