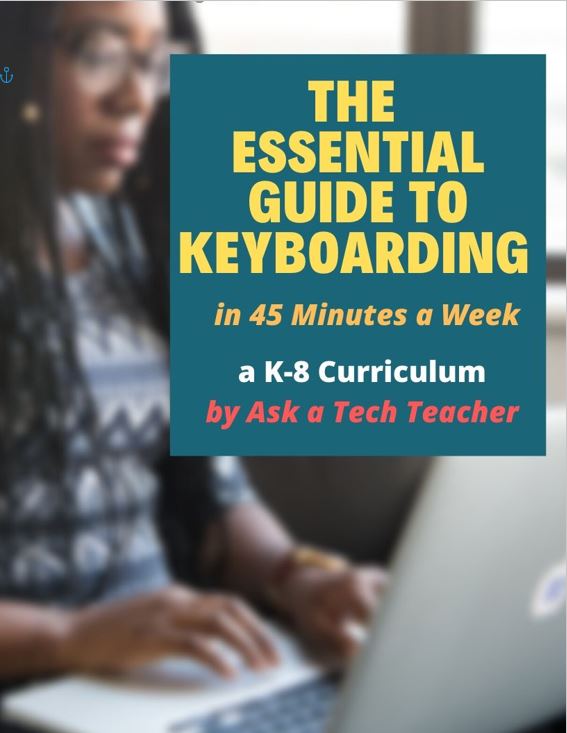 Keyboard Curriculum for Grades K-8
Description
A keyboard curriculum for K-8 that can be taught in 45 minutes a week–15 minutes in class and 30 minutes at home. Drill, games, quizzes–kids love it
..
You may think it impossible to find an effective keyboard curriculum for the skimpy forty-five minutes a week you can devote to keyboarding. You teach what you can, but it always seems to be the same lessons—hands on home row, good posture, eyes on copy. You wonder if it's making a difference, or if it matters.
..
Yes, it does and there is a way. It requires a plan, faithfully executed, with your eye relentlessly on the goal, but if you commit, it works.
..
In this book, The Essential Guide to Teaching Keyboarding in 45 Minutes a Week: a K-8 Curriculum, I'll share a unique keyboarding curriculum for K-8 that I've seen work on thousands of students.
..
The book includes:
A summary of the literature
Answers to questions like 'Can youngers learn to keyboard—and should they?'
Importance of the teacher

The K-8 curriculum includes a lot more variety than keyboard exercises on installed software. Here's a rundown of pieces used:
Keyboarding software (yes, you do need repetition)
Online keyboarding websites
Age-appropriate use of hand covers
Quarterly speed/accuracy quizzes
Quarterly blank keyboarding quizzes
Monthly homework
Wall charts to support learning and display evidence of success
Grading based on student improvement, not conformity to class norms
A Scope and Sequence of keyboarding skills by grade
You'll learn practical strategies on how to blend these pieces, each added at the right time, to teach the keyboarding skills required for today's classroom. Each lesson includes:
Overview
Objectives and steps
Best Practices
Extensions
Trouble-shooting
Where to get help
Note to readers: Color shown in the sample image gallery are included in PDF version only.  

Add'l note: If you're looking for the Ultimate Guide to Keyboarding, which aligns with student workbooks and student videos, click here.
Details on K-8 Keyboard Curriculum
Perfect bound/Digital: 104 pages
Publisher: Structured Learning (July 18, 2018)
Language: English
ISBN-13: 978-0-9845881-4-5
Product Dimensions: 11.6 x 9.7 x 0.9 inches
License: Single user
How do I pick between Essential Guide to Keyboarding and Ultimate Guide?
The Ultimate Guide:

is Common Core compliant
includes more detail/images/how-tos on each activity than the Essential Guide.
expanded detail makes it perfect when keyboarding is taught across grade-level classes, often by teachers without a background in teaching keyboarding
is aligned with new K-8 Student Workbooks
includes enriched assessments (to reflect changes since the 2012 publication date of the Essential Guide)
includes a detailed timeline of what to introduce when, by week and/or month
includes a slightly-expanded research section
responds to reader requests since the Essential Guide's 2012 publication (which is why it's over three times as long!)
can be enriched with student workbooks and videos
can be student-directed when student workbooks and videos are used

The Essential Guide

is more compact (less than a third the size of the Ultimate Guide)
covers all essential keyboarding material in one book rather than two, and as such, is more portable and affordable
is available in print or digital (Ultimate Guide: K-5 is available in both formats, but the Middle School volume is only available in digital)
is perfect for teachers looking for a curriculum map of activities more than how to do them
has no associated workbooks or videos
well suited when keyboarding is taught by one teacher
Reviews
I teach computer preschool – 8th grade. Having this guide to keyboarding helped me know what to expect for each grade level. It also gives great websites to use to reinforce learning. I also have the K-8 computer curriculum textbooks and I am highly satisfied with their content.  –Amazon customer
---
What a great way to keep Keyboarding interested for students! –Teachers Pay Teachers Customer
---
This book provides tech teachers — both novice and those with years of experience. I especially appreciate the specific guidelines with ACTUAL resources available online with best practices and extensions for a variety of learners. I feel that this is BY FAR the most HELPFUL resource I have come across as a first-year technology instructor and plan on using this daily throughout the year! BRAVO! –Amazon customer
---
This book offers so much more than I expected. Not only does it tell how to implement keyboarding into all grade levels (kindergarten-5th) it provides several websites and cross-curricular ideas that can be utilized along with the curriculum. I would recommend this book to anyone who teaches technology to grade school students.  –Amazon customer
---
This curriculum goes well beyond simply which software to pick. It mixes software with games, quizzes, and projects. All with the goal of teaching age-appropriate keyboarding. –Amazon customer
---
With online testing we have to hit the road running with keyboarding. This resource makes it easy! Thank you! –TPT Customer
---
When your child comes home and asks to practice keyboarding you know the teacher is doing something right. Even though kids can text with two fingers our school has discovered that the kids want to learn how to keyboard. We are using the book for K-8 instruction in keyboarding to prepare the students for the 1:1 program we have in grades 8-12.  –Amazon customer
Structured Learning IT Team
is the premier provider of technology instruction books and ebooks to education professionals. Technology and keyboarding curriculums, how-to books, tips and tricks, a one-of-a-kind blog-based helpline—all the tools required to fulfill the tech needs of the 21stcentury classroom. All materials are classroom-tested, teacher-approved with easy-to-understand directions supported by online materials, websites, blogs, and wikis. Whether you are a new teacher wanting to do it right or a veteran educator looking for updated materials, 
Structured Learning
 and its team of technology teachers there to assist you.
Ask a Tech Teacher is an award-winning resource blog run by a group of technology teachers. It has more than 60,000 visitors a month in search of resources and advice, offers oodles of free lesson plans, pedagogical conversation, website reviews and more. Its free newsletters and website articles are read by thousands, including teachers, homeschoolers, and anyone serious about finding the best way to maneuver the minefields of technology in education.
Ask a Tech Teacher© is a group of teachers, passionate about technology in education, who run an award-winning resource blog Ask a Tech Teacher © with more than 75,000 visitors a month in search of teaching materials and advice. It offers oodles of free lesson plans, pedagogical conversation, website reviews and more. Its free newsletters and website articles are read by thousands, including teachers, homeschoolers, and anyone serious about finding the best way to maneuver the minefield of technology in education.