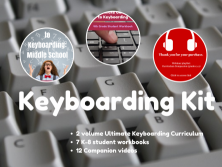 Keyboarding Kit
Description of Keyboarding Kit 

This Keyboarding Kit is only available to homeschoolers–to provide a solid keyboarding foundation for a student's self-paced learning. With this Keyboarding Kit, you get 22 tech ed resources to help you integrate keyboarding into your teaching, lesson plans, inquiry, Standards, and curriculum requirements. Included:
..
One of these three ebooks (teacher manuals on keyboarding):
..
Here are links for more information:
..
Two of these seven eworkbooks (to accomodate two age-groups of students):
Here's a link
to find out more about this collection (with grade-level info).
..
Stream of 12 keyboarding videos (for students):
..
Collection of 8 pedagogic keyboarding articles (for teachers:
H…
How do you order?
Click 'Buy' button
Select desired quantity and 'Add to Cart'
Checkout and then 'Checkout Now' after reviewing cart
Select to pay with a credit card as a PayPal Guest or using your PayPal account
Tell us which teacher manual and student workbooks you'd like in the Comment section (or email Zeke dot Rowe at StructuredLearning dot net)
Details on Keyboarding Kit

Digital delivery: 3 ebooks (approx. 400 pages), 12 videos, 8 articles
Language: English
Discount: 15% off the price you'd pay if you bought these pieces separately (workbooks not available separately except through this Kit)
License: Single user (contact zeke dot rowe at structuredlearning dot net for multi-user discount)
..
Reviews of SL Keyboarding Curricula
This curriculum goes well beyond simply which software to pick. It mixes software with games, quizzes and projects. All with the goal teaching age appropriate keyboarding.  –Amazon Customer
---
Thank you for all of the information you provide, I don't think I could do my job without your books, wikis, and advice. Thank you for being an inspiration to me and others and for being willing to share your knowledge and experience with all of us [refers to the free help available to curriculum users]  –long-time teacher
---
I will be teaching keyboarding for the first time this year. Our students haven't had an official keyboarding or technology class ever in our school. I really questioned how I was going to accomplish teaching so much information when I see the kids once a week [until I found this course]. –technology integration specialist
---
Finding you and all that you have to support technology and its users have been a blessing –new technology teacher
---
Having this guide to keyboarding helped me know what to expect for each grade level. It also gives great websites to use to reinforce learning. I also have the K-8 computer curriculum textbooks and I am highly satisfied with their content.  –Amazon Customer
---
I especially appreciate the specific guidelines with ACTUAL resources available online with best practices and extensions for a variety of learners. I feel that this is BY FAR the most HELPFUL resource I have come across! BRAVO! –Amazon customer
---
This book offers so much more than I expected. Not only does it tell how to implement keyboarding into all grade levels, it provides several websites and cross-curricular ideas that can be utilized along with the curriculum. I would recommend this book to anyone who teaches technology to grade school students. –Amazon customer
---
When your child comes home and asks to to practice keyboarding you know the teacher is doing something right. Even though kids can text with two fingers our school has discovered that the kids want to learn how to keyboard. We are using the book for K-8 instruction in keyboarding to prepare the students for the 1:1 program we have in grades 8-12 –Amazon customer, parent
---
About the Author
Ask a Tech Teacher© is a group of tech teachers who run the an award-winning resource blog with more than 75,000 visitors a month in search of teaching materials and advice. It offers oodles of free lesson plans, pedagogical conversation, website reviews and more. Its free newsletters and website articles are read by thousands, including teachers, homeschoolers, and anyone serious about finding the best way to maneuver the minefield of technology in education.