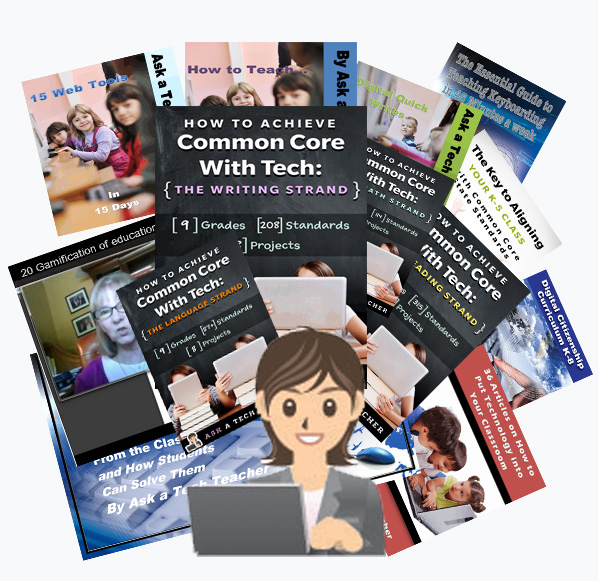 All-in-one Tech Integration Kit: K-5
Description of All-in-one Tech integration Kit

This is especially designed for the classroom teachers–the educator who isn't a tech teacher, tech integration specialist, and who wants to put more tech tools into his/her grade-level and subject lesson plans. If you teach kindergarten-5th grade, you're in the right place!
With this All-in-one Tech Integration Kit, you get 40 tech ed resources to help you integrate technology into your teaching, lesson plans, inquiry, Standards, and curriculum requirements. Included:
ebooks/books (including 130 lesson plans)
7 topical lesson plans
23 webinars
30 minutes 1:1 with a Master Teacher
If you're a K-5 class teacher, you are expected to integrate technology into your classroom activities. This Kit provides effective options for using technology as a tool in your classroom. Use it to teach better, save time, excite students.
20% off when you buy the kit compared to the cost of individual resources!

What's included (click links for detail):
..
K-8 keyboard curriculum. Essentials of keyboarding in 45-minutes a week.
Students must know how to keyboard. the PARCC and Smarter Balanced tests at the end of the year require basic knowledge of keyboarding skills. As do the Common Core Standards. Make it project-based learning with this curriculum (well, there is some drill also)
..
K-8 digital citizenship curriculum. Includes 3-8 projects per grade-level, accomplished in a few minutes a day or a full class period.

If students are using the internet, they must know how to use it correctly, safely, and efficiently. This curriculum shows you what to teach at what age. Projects can be tied into other classroom projects–just add detail about digital citizenship.         
5 lesson plans per grade level designed to support inquiry in your classroom. Adapted to whatever unit you are working on.
..
9 grades, 315 Standards, 14 projects. Designed to support Common Core Reading standards while integrating tech into your inquiry and school curriculum. Digital only

..
9 grades, 208 Standards, 28 projects. Designed to support Common Core Writing standards while integrating tech into your inquiry and school curriculum. Digital only

..
9 grades, 114 Standards, 20 projects. Designed to support Common Core Math standards while integrating tech into your inquiry and school curriculum. Digital only

..
9 grades, 87 Standards, 8 projects. Designed to support Common Core Language standards while integrating tech into your inquiry and school curriculum. Digital only

..
..
169 of the most common tech problems, strategies, and pedagogy you and your students face using technology in the classroom. Be ready!
..
.
7 video webinars about 30 minutes each, on Common Core and technology. Includes:
Common Core and Tech
Common Core and Keyboarding
Common Core and Problem Solving
Common Core Math and Tech
Common Core Language and Tech
Common Core Reading and Tech
Common Core Writing and Tech
16 video webinars about 30 minutes each, on tech topics and pedagogy. Includes:
how to teach the hard-to-teach class
problem solving
search and research (2)
digital citizenship (2)
differentiation
gamification of your classroom
15 web tools students will want to use
digital note-taking
8 classroom tools that are going away
blogging in the classroom

Excel in the classroom

trifolds in the classroom

MS Word in the classroom

graphic organizers in the classroom

digital quick writes
Google Apps
Via Skype, Google Hangouts, or email, on one of the topics in the kit. Click for more information
Reviews of SL Tech ebooks/books
My daughter is using this as a text in her computer class at school. The lessons are easy to follow and informative. She has learned a lot so far this year.
–Amazon customer
---
I now have all grades (K-5) and think of these as my bible for teaching! Thank you! –Teachers Pay Teachers Customer
---
I'm a new technology teacher K-8 and needed something for Kindergarten – this book is wonderful! I love it! Lessons are in-depth and will surely help my Kindergarten students gain technology skills that are age appropriate! –Amazon customer
---
This books provides lots of good ideas for computer teachers. The lessons are geared a little higher than my kindergardeners can handle, so I simplify a lot of the lessons. Many of the lessons use TuxPaint, so if you plan to use these lessons make sure you download it on all of your computers. –Amazon customer
---
I have 3 children who all use the technology binders and they are so useful. You know what each lesson is and what they are learning. You also have the homework in there so everything you need is in one binder (which prevents lost sheets of paper). Definitely recommend this product. –Amazon customer
---
This workbook is a great tool for helping your primary school student learn hands on skills for the computer. Typing exercises, key hardware terms and other activities are included and can be used pretty independently by the student. It's been a great tool for our 3rd grader and supplements the activities given in class. Would definitely recommend!
---
My daughter is using this book at the school she attends and loves it. It makes learning technology so easy for children. It organizes learning so that each lesson builds on what came before, and nothing's presented that children aren't ready for.
This is the first of six–through fifth grade. I've seen the work of fifth graders who have used this since kindergarten. They edit photos in Photoshop and make movies using Pinnacle Studio. They do PowerPoint slideshows that look great. I'd recommend this series to anyone. –Amazon customer
About the Authors
Jacqui Murray has been teaching K-8 technology for 15 years. She is the editor/author of over a hundred tech ed resources including a K-8 technology curriculum, K-8 keyboard curriculum, K-8 Digital Citizenship curriculum. She is an adjunct professor in tech ed, CSG Master Teacher, webmaster for four blogs, an Amazon Vine Voice book reviewer, Editorial Review Board member for Journal for Computing Teachers, CAEP reviewer, CSTA presentation reviewer, freelance journalist on tech ed topics, and a weekly contributor to TeachHUB. You can find her resources at Structured Learning.
Ask a Tech Teacher© is a group of tech teachers who run an award-winning resource blog with more than 75,000 visitors a month in search of teaching materials and advice. It offers oodles of free lesson plans, pedagogical conversation, website reviews and more. Its free newsletters and website articles are read by thousands, including teachers, homeschoolers, and anyone serious about finding the best way to maneuver the minefield of technology in education.