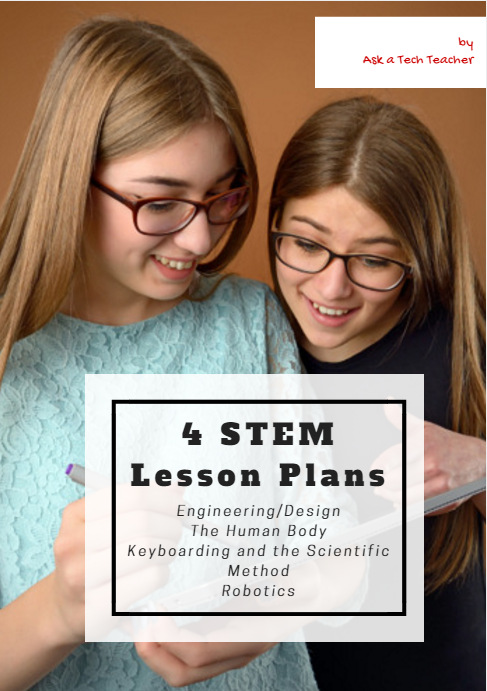 STEM Bundle
Description of STEM Bundle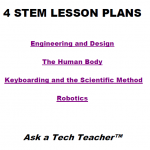 This STEM bundle includes four lesson plans:
Engineering and Design
The Human Body
Keyboarding and the Scientific Method
Robotics
All four incorporate technology into authentic class activities such as bridge building, note-taking, and math. Each lesson plan includes an Essential Question and Big Idea, average time required to complete, suggested appropriate grade level, suggested teacher preparation, step-by-step directions (see preview for an example), assessment strategies, pedagogic background, samples, and images (where relevant). 
If you're a K-8 class teacher who wants to start your students on coding, start here.
The 24-page lesson includes:
summary of STEM
average time required
suggested grade level
Essential Question
Big Idea
teacher prep required
step-by-step instructions (where relevant)
examples
assessment strategies
 Digital delivery only 
Details
Digital delivery
Page count: 24 pages
Language: English
Grade level:  K-8
Multiple Bundles? Click here
Reviews of SL tech ed books/ebooks
You are phenomenal! –SL customer
---
So excited my principal approved a lot of resources from structured learning –SL customer
---
Your staff is amazing. So fast to help and so thorough. I am so appreciative. –SL customer
---
This books provides lots of good ideas for computer teachers. The lessons are geared a little higher than my kindergardeners can handle, so I simplify a lot of the lessons. Many of the lessons use TuxPaint, so if you plan to use these lessons make sure you download it on all of your computers. –Amazon customer
---
About the Authors
Ask a Tech Teacher© is a group of tech teachers who run the an award-winning resource blog with more than 75,000 visitors a month in search of teaching materials and advice. It offers oodles of free lesson plans, pedagogical conversation, website reviews and more. Its free newsletters and website articles are read by thousands, including teachers, homeschoolers, and anyone serious about finding the best way to maneuver the minefield of technology in education.