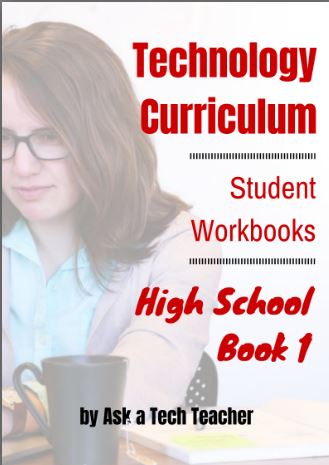 Student Technology Workbook High School
Description
The High School Technology Curriculum Student Workbook is the tenth in a series designed to teach K-12 technology by integrating it into classroom inquiry. The choice of hundreds of school districts, private schools and homeschoolers around the world, this ten-volume suite is the all-in-one solution to running an effective, efficient, and fun technology program for kindergarten-High School (each grade level textbook sold separately) whether you're the lab specialist, IT coordinator, or classroom teacher.
This student workbook aligns with the 32-week high school technology curriculum and is designed with the unique needs of high school technology IT classes in mind. The student workbook includes:
316 images
39 assessments
32 weeks of lessons
Each lesson is aligned with both Common Core State Standards and National Educational Technology Standards and includes:
big idea
class exit tickets
class warmups
domain-specific vocabulary
emphasis on comprehension/problem-solving/critical thinking/preparing for career and college
essential question
examples
focus on transfer of knowledge and blended learning, collaboration and sharing
grading rubrics
options for adapting lessons to PCs, iPads, Chromebooks, or Macs
problem-solving for lesson
skills required for lesson and learned during lesson
steps to accomplish goals
Learning is organized into units that include: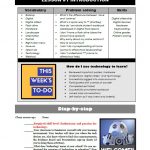 Introduction 
Digital Tools in the Classroom
Digital Citizenship
Keyboarding
Problem Solving
Screenshots, Screencasts, Videos
Word Processing Summative
Writing with Comics, Twitter, More
Desktop Publishing
Spreadsheets
Financial Literacy
Internet Search and Research
Presentation Boards
Slideshows
Infographics
Google Earth Lit  Trip
Online Image Legalities
Image Editing
Webtools
Genius Hour 
Coding 
Write and Publish an Ebook
The Debate
Additionally, Units are collected under Themes. Teachers can adopt several themes per grading period or break them up throughout the year. Themes include:
General
Math
Productivity
Search and Research
Speaking and Listening
Writing
This is a student-paced, student-directed year-long course that integrates with any school curriculum and prepares students for end-of-year testing and life-long education needs. Having a workbook encourages independence in student learning and requires only nominal direction from a teacher, homeschooling parent, or another adult. These are perfect if technology is integrated across all classes at your school, taught in the tech lab, or taught in a home environment.
Not available individually–only as multi-user license. 
Detail
Digital access

Length: 200 pages
Images: 316 images
Language: English
Publisher: Structured Learning (2019)
ISBN-13: 978-1-942101-37-6
License: Multi-user
Companion materials: Teacher manual (free)
Purchase: PayPal, credit card (via PayPal), school Purchase Order
Purchase price is PER GRADE LEVEL
Curious? Here's a preview:
Reviews of SL Curricula
---
Thank you for all of the information you provide, I don't think I could do my job without your books, wikis, and advice. Thank you for being an inspiration to me and others and for being willing to share your knowledge and experience with all of us [refers to the free help available to curriculum users] –long-time teacher
---
With online testing we have to hit the road running with keyboarding. This resource makes it easy! Thank you! –TeacherPayTeachers customer
---
I will be teaching keyboarding for the first time this year. Our students haven't had an official keyboarding or technology class ever in our school. I really questioned how I was going to accomplish teaching so much information when I see the kids once a week [until I found this course]. –technology integration specialist
---
Finding you and all that you have to support technology and its users have been a blessing –new technology teacher
---
I teach computer preschool – 8th grade. Having this guide to keyboarding helped me know what to expect for each grade level. It also gives great websites to use to reinforce learning. I also have the K-8 computer curriculum textbooks and I am highly satisfied with their content. –Amazon Customer

---
This book provides tech teachers — both novice and those with years of experience. I especially appreciate the specific guidelines with ACTUAL resources available online with best practices and extensions for a variety of learners. I feel that this is BY FAR the most HELPFUL resource I have come across as a first year technology instructor and plan on using this daily throughout the year! BRAVO! –Amazon customer — first year teacher

---
I teach computer preschool – 8th grade. Having this guide to keyboarding helped me know what to expect for each grade level. It also gives great websites to use to reinforce learning. I also have the K-8 computer curriculum textbooks and I am highly satisfied with their content. –Amazon Customer

---
This book offers so much more than I expected. Not only does it tell how to implement keyboarding into all grade levels (kindergarten-5th) it provides several websites and cross-curricular ideas that can be utilized along with the curriculum. I would recommend this book to anyone who teaches technology to grade school students. –Amazon customer
---
When your child comes home and asks to to practice keyboarding you know the teacher is doing something right. Even though kids can text with two fingers our school has discovered that the kids want to learn how to keyboard. We are using the book for K-8 instruction in keyboarding to prepare the students for the 1:1 program we have in grades 8-12 –Amazon customer, parent
---
This curriculum goes well beyond simply which software to pick. It mixes software with games, quizzes and projects. All with the goal teaching age appropriate keyboarding. –Amazon Customer
About the Author
Ask a Tech Teacher© is a group of teachers, passionate about technology in education, who run the an award-winning resource blog Ask a Tech Teacher © with more than 75,000 visitors a month in search of teaching materials and advice. It offers oodles of free lesson plans, pedagogical conversation, website reviews and more. Its free newsletters and website articles are read by thousands, including teachers, homeschoolers, and anyone serious about finding the best way to maneuver the minefield of technology in education.