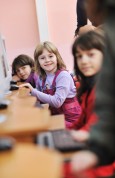 Online Keyboarding–Immersion
Description
Onine Keyboarding–Immersion Program--a self-managed online keyboarding class that you complete in your own time, at your own pace, start and stop when you need to. Join us for three weeks, fifteen classes, one hour a day–or spread it out as it works for your summer plans. Vacation? Do your keyboarding with a tablet anytime you have downtime–or wait till you get back. Summer sports camp? Get keyboarding done in the morning or after you've recovered from the game. During school? Complete it at a slower pace, weekends, afterschool, evenings.
The goal: Prepare for the year's academic demands, improve typing skills, and gain facility with technology.

Starts on your schedule!

Resources you get
15 hours of video training on keyboarding. They are designed for an immersive summer experience, but adapt them to your yearly needs (see sample video below)
membership in the Keyboarding Wiki for one year
access to videos for one year after completion
a certificate attesting to completion of this comprehensive keyboarding preparation class (please notify us when you're done)
access to the teacher any time it's needed. Drop a note in the Discussion Board. She answers within 24 hours. You may also get responses from other class members!

What's required
access to the internet
a full-size keyboard (not an iPad)
a sense of adventure and a risk-taker's attitude

Keyboarding Schedule
start with a benchmark speed quiz to see where you are at the beginning and assess how you finish up.
start each class with keyboarding–Typing Web or DanceMat Typing. You can even use whatever keyboarding program you use in your school (Typing Club, Type to Learn–as long as you can log into it from your computer). By the end of Video Two, you must cover hands with a light cloth to test key knowledge.
a couple of times a week, exercise fingers to remind yourself they are all there–not just pointers or thumbs.
every five sessions, take a blank keyboard quiz to promote confidence in letter key placement. You need to believe in yourself–that you know where keys are without looking. Of course, taking the quiz will be on the honor system. If you look at the keyboard during the test, you are the only one who will know. And see the consequences of that at the end of the 15 sessions.
in each session, enjoy a variety of keyboarding games to test speed and accuracy
once a week, we do something fun (that reinforces technology skills). After four sessions of keyboarding, I want you to see how it is used in environs different from straight typing (like creating a Tagxedo)

Keyboarding Goals
increase speed. For most students who follow all the exercises as presented, that's about 20%. Why? Students get a better understanding of where keys are and employment of proper keyboarding habits. Students who attend a school that requires a nominal amount of online classwork keep this increase because they use their new skills daily.
provide resources students can draw on to carry them through the school year when the taped lessons run out. This means, when they realize they need better keyboarding skills to accomplish class requirements, they will be able to take responsibility for their own learning.
show how much fun keyboarding can be–a major victory considering the amount of memorization required
Detail
Digital access: via wiki and videos

Language: English
Length of time: 15 sessions, 3 weeks. Access to resources for one year following completion of course.
Resources provided: Fee covers videos, keyboarding wiki, online help, extended materials availability
License: Single user. Each participant must purchase their own membership. Cannot be shared.

Starts: June
Curious? Here's a sample:
What students say:
I loved this class! I even remembered to change the code when embedding my last Voki. Remember I had to add an "s" to the http after the src?! Just in case someone else runs into the same problem. I can't believe I just wrote that! I sound like a real techie. now! I am so excited to teach keyboarding this fall!
About the Authors

Jacqui Murray has been teaching K-8 technology for 15 years. She is the editor/author of dozens of tech ed resources including a K-8 technology curriculum, K-8 keyboard curriculum, K-8 Digital Citizenship curriculum. She is webmaster for six blogs, CSG Master Teacher, adjunct professor in tech ed, an Amazon Vine Voice book reviewer, Editorial Review Board member for Journal for Computing Teachers, CAEP reviewer, CSTA presentation reviewer, freelance journalist on tech ed topics, a tech ed columnist for Examiner.com, and a weekly contributor to TeachHUB. You can find her resources at Structured Learning.

Ask a Tech Teacher© is a group of teachers, passionate about technology in education, who run an award-winning resource blog Ask a Tech Teacher © with more than 75,000 visitors a month in search of teaching materials and advice. It offers oodles of free lesson plans, pedagogical conversation, website reviews and more. Its free newsletters and website articles are read by thousands, including teachers, homeschoolers, and anyone serious about finding the best way to maneuver the minefield of technology in education.