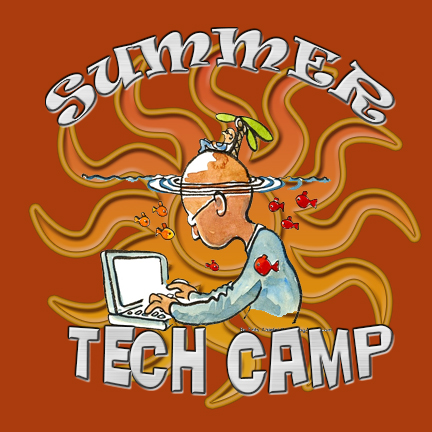 Summer Tech Camp Survival Kit
Description–Summer Tech Camp Survival Kit

Build Your Own Summer Tech Camp Adventure. Kit includes everything you need to personalize the summer to your student needs–lesson plans, videos, ebooks, and more. Once you purchase, you get an auto download for a 32-page Guide that includes an introduction, video intro, instructions on Building Your Own Summer Tech Camp Adventure, class template, download links for all material, and a Help email if you get stuck.
A $230 value–for $179!
(We take PO's–contact Zeke for details–zeke.rowe@structuredlearning.net)
Here are the details:
Weeks:                             3 weeks (can be repeated)
Hours per day:               4 or 6 hours per day, depending upon the option you select
Focus:                              Technology that addresses life in a fun, motivating way
Age Group:                      3rd-8th grade; mature 2nd grade. Adaptable to high school.
How:                                Build Your Own Summer Tech Camp with these supplies
21 Activities
41 Videos
18 Lesson plans
3 eBooks
NOT Included:
Standard software assumed part of a typical ed tech set-up
Standard materials assumed part of a tech set-up
Activities include:
15 web tools in 15 days
Blogs
Brainstorming/Mindmapping
Debate
Digital Bridge Building
Digital Citizenship
Digital note-taking
Digital Quick Stories
Digital Quick Writes
Games in the Classroom
Genius hour
Google apps
Internet search and research
Keyboarding
Khan Academy
MS Word
Presentation Boards
Problem Solving
Service Learning
Twitter in the Classroom
Write an ebook
K-8 Digital Citizenship curriculum
169 Real-world Ways to Put Tech into your Class
Curious? Here's an introductory video:
Reviews of SL Tech ebooks/books
My daughter is using this as a text in her computer class at school. The lessons are easy to follow and informative. She has learned a lot so far this year.
–Amazon customer
---
I now have all grades (K-5) and think of these as my bible for teaching! Thank you! –Teachers Pay Teachers Customer
---
I'm a new technology teacher K-8 and needed something for Kindergarten – this book is wonderful! I love it! Lessons are in-depth and will surely help my Kindergarten students gain technology skills that are age appropriate! –Amazon customer
---
This books provides lots of good ideas for computer teachers. The lessons are geared a little higher than my kindergardeners can handle, so I simplify a lot of the lessons. Many of the lessons use TuxPaint, so if you plan to use these lessons make sure you download it on all of your computers. –Amazon customer
---
I have 3 children who all use the technology binders and they are so useful. You know what each lesson is and what they are learning. You also have the homework in there so everything you need is in one binder (which prevents lost sheets of paper). Definitely recommend this product. –Amazon customer
---
This workbook is a great tool for helping your primary school student learn hands on skills for the computer. Typing exercises, key hardware terms and other activities are included and can be used pretty independently by the student. It's been a great tool for our 3rd grader and supplements the activities given in class. Would definitely recommend!
---
This is the first of six–through fifth grade. I've seen the work of fifth graders who have used this since kindergarten. They edit photos in Photoshop and make movies using Pinnacle Studio. They do PowerPoint slideshows that look great. I'd recommend this series to anyone. –Amazon customer
About the Authors
Ask a Tech Teacher© is a group of teachers, passionate about technology in education, who run the an award-winning resource blog Ask a Tech Teacher © with more than 75,000 visitors a month in search of teaching materials and advice. It offers oodles of free lesson plans, pedagogical conversation, website reviews and more. Its free newsletters and website articles are read by thousands, including teachers, homeschoolers, and anyone serious about finding the best way to maneuver the minefield of technology in education.