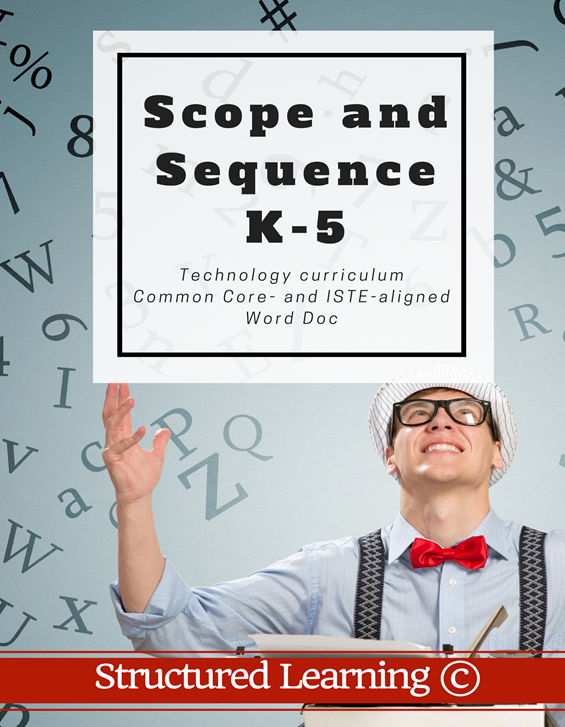 Tech Scope and Sequence–K-5
Description
The Tech Scope and Sequence for K-5 itemizes every skill taught to complete a technology curriculum based on ISTE National Standards and Common Core. It's organized by NETS-S standard and grade level, showing for each grade level what is introduced, worked on, mastered, and completed. It's in a convenient MS Word format so users can edit and format as needed for their unique school needs.
Delivered in MS Word format.
…
Detail on Tech Scope and Sequence for K-5
Curious? View sample pages in gallery
Reviews (on SL books/ebooks)
---
What a lifesaver and time saver. Thank you –TeachersPayTeachers customer
---
Extremely helpful for my unit planning! –TeachersPayTeachers customer
---
Thank you! this makes life much easier for a computer teacher like me.  –TeachersPayTeachers customer
---
This is an amazingly useful resource and I am so pleased to have it. I do think it would be helpful to include in the description that the information is also in your Technology Curriculum Teacher Manuals to keep redundant sales from taking place. Those wishing to purchase, please know that this product is top notch and fully worth purchasing just hoping you notice what I missed.   –TeachersPayTeachers customer
---
About the Authors
Ask a Tech Teacher© is a group of teachers, passionate about technology in education, who run the an award-winning resource blog Ask a Tech Teacher © with more than 75,000 visitors a month in search of teaching materials and advice. It offers oodles of free lesson plans, pedagogical conversation, website reviews and more. Its free newsletters and website articles are read by thousands, including teachers, homeschoolers, and anyone serious about finding the best way to maneuver the minefield of technology in education.