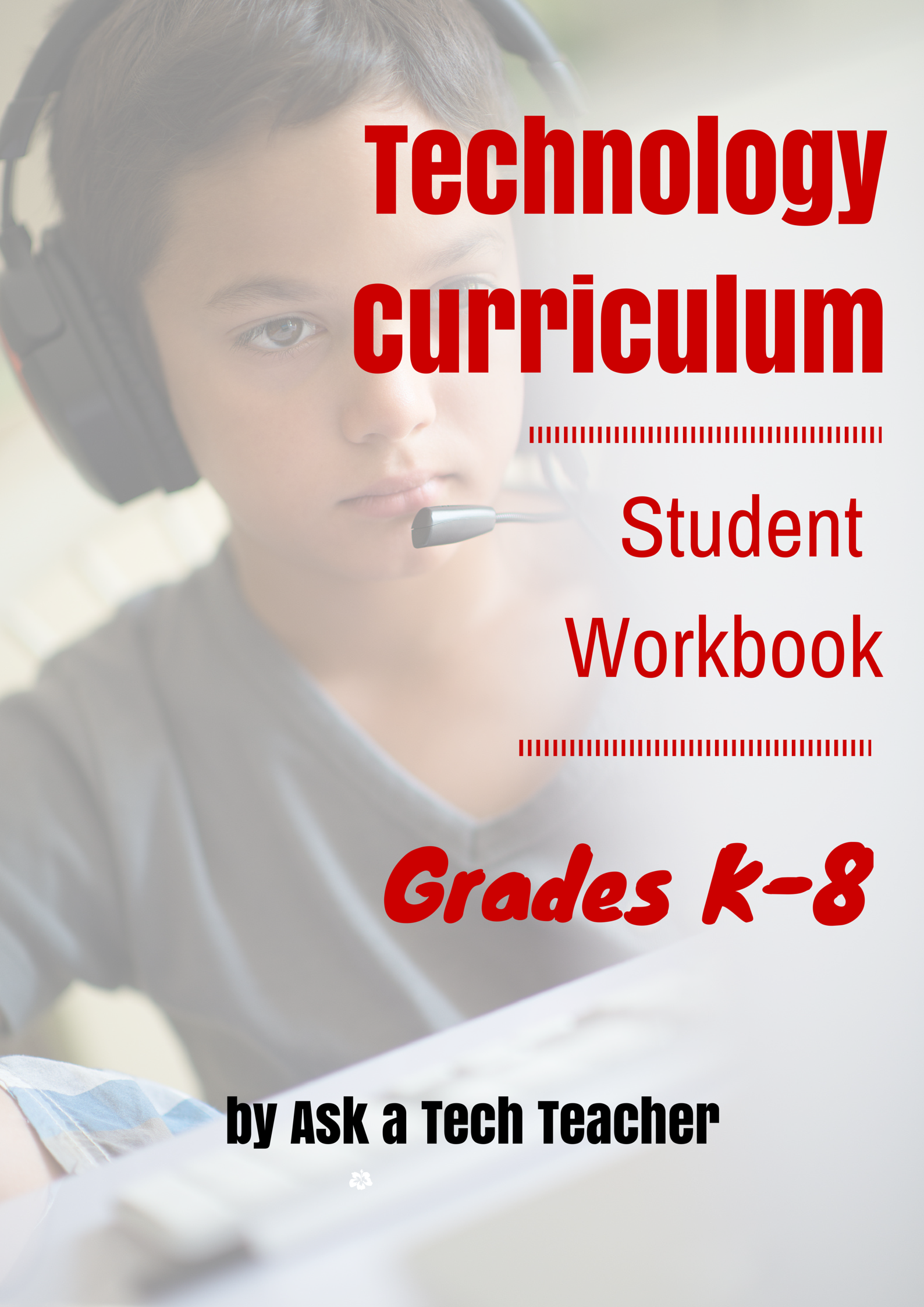 K-8 Tech Curriculum Student Workbooks
Description

Price above is per grade level
9 grade-level technology curriculum student workbooks (kindergarten through 8th grade) with teacher manuals and teacher videos. Aligned with the Structured Learning K-8 technology curriculum (which is aligned with Common Core and ISTE)–one ebook per grade level. Each ebook is 148-203 pages, with 251-420 images.
This is a student-paced, student-directed course that integrates with any school curriculum and prepares students for end-of-year Common Core testing. Includes:
why learn technology?
formative and summative assessments
domain-specific vocabulary
relevant tech problem solving
required digital citizenship overview
curriculum map with a K-8 timeline of topics
embedded links so students can simply click and go—no searching for the site, trying to remember the site address
rubrics, quizzes, study guides, and more–to save teacher duplicating. It's right there in the workbook!
over one hundred full-color images and how-tos
samples of projects at student fingertips so wherever they're practicing, they have an example and directions
background material right there. If student wants to remember what they did a week–a month–ago, it's right there.
extensions to dig deeper for those who are inspired by a topic
year's worth of homework–all in one place
workbook goes with the student. It's licensed to them through the school. If they're in the library, the classroom, the soccer field, they can practice. Even at home (with appropriate license).
These workbooks encourage independence in student learning and require only nominal direction from a teacher, homeschooling parent, or another adult. These are perfect if technology is integrated across all classes at your school, taught in the tech lab, or taught in a home environment.
Here's why you'll want these workbooks:
workbooks are full color
workbooks include embedded links to websites and digital tools making it easy for students to access them
student can pursue learning independently, at their own pace
student can differentiate for their personal needs through options provided in the lessons
student can spiral back to review skills and spiral forward to work ahead
student has easy access to all metrics and assessments, encouraging accountability for Big Ideas and Essential Questions
student can use an annotation tool (i.e., iAnnotate or Adobe) to mark up rubrics and examples, then erase at the end of the year
student has clear exemplars of lesson ideas
student has easy access to all required materials–links, webtools, research, and more
Not available individually–only as multi-user license. Multi-user licenses are per grade level. There is special pricing if you choose all nine grade levels.
Note: Price shown above is per grade level
Free with each grade-level multi-user license:
teacher handbook
32 teacher videos per grade level, one a week through the school year–synced to the 32 lessons in the curriculum (grades K-5 only)

online help from curriculum specialists via email and Discussion Boards
For more information on each student workbook, click the grade level: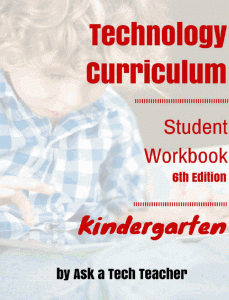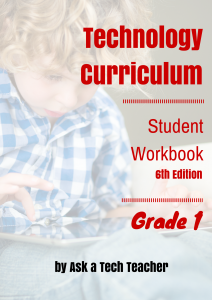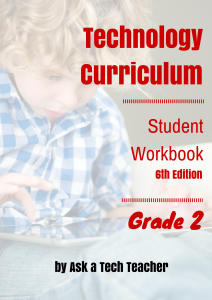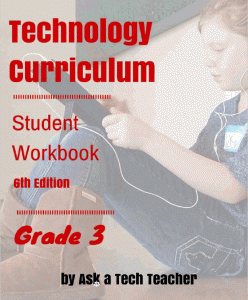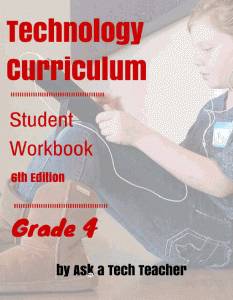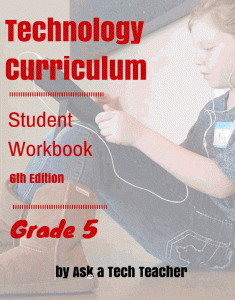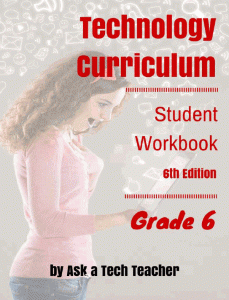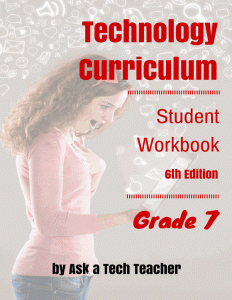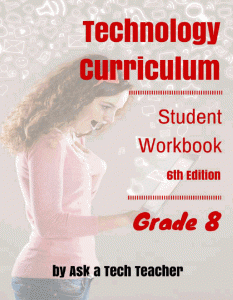 For more information on multi-user licenses, click the one you're interested in:
Detail
Digital access only

Length: 148-420 pages each
Images:  251-406
Language: English
Publisher: Structured Learning (June 2016)
License: Multi-user only

Companion materials: Free teacher manual and videos
Purchase: PayPal, credit card (as a guest in PayPal), school Purchase Order
Purchase price is PER GRADE LEVEL. Special pricing for all nine grades
Curious? Here's a sample:
Want a video?
If you're looking for more depth, here's a thirty-minute video on unpacking the K8 technology curriculum in your classroom:
Reviews of SL Curricula
---
Thank you for all of the information you provide, I don't think I could do my job without your books, wikis, and advice. Thank you for being an inspiration to me and others and for being willing to share your knowledge and experience with all of us [refers to the free help available to curriculum users] –long-time teacher
---
With online testing we have to hit the road running… This resource makes it easy! Thank you! –TeacherPayTeachers customer
---
Our students haven't had an official… technology class ever in our school. I really questioned how I was going to accomplish teaching so much information when I see the kids once a week [until I found this course]. –technology integration specialist
---
Finding you and all that you have to support technology and its users have been a blessing –new technology teacher
---
I teach computer preschool – 8th grade. Having this guide to keyboarding helped me know what to expect for each grade level. It also gives great websites to use to reinforce learning. I also have the K-8 computer curriculum textbooks and I am highly satisfied with their content. –Amazon Customer

---
This book provides tech teachers — both novice and those with years of experience. I especially appreciate the specific guidelines with ACTUAL resources available online with best practices and extensions for a variety of learners. I feel that this is BY FAR the most HELPFUL resource I have come across as a first year technology instructor and plan on using this daily throughout the year! BRAVO! –Amazon customer — first year teacher

---
I teach computer preschool – 8th grade. Having this guide helped me know what to expect for each grade level. It also gives great websites to use to reinforce learning. I also have the K-8 computer curriculum textbooks and I am highly satisfied with their content. –Amazon Customer

---
This book offers so much more than I expected. Not only does it tell how to implement [technology] into all grade levels (kindergarten-5th) it provides several websites and cross-curricular ideas that can be utilized along with the curriculum. I would recommend this book to anyone who teaches technology to grade school students. –Amazon customer
---
When your child comes home and asks to to practice keyboarding you know the teacher is doing something right. Even though kids can text with two fingers our school has discovered that the kids want to learn how to keyboard. We are using the book for K-8 instruction in keyboarding to prepare the students for the 1:1 program we have in grades 8-12 –Amazon customer, parent
---
This curriculum goes well beyond simply which software to pick. It mixes software with games, quizzes and projects. –Amazon Customer
About the Author
Ask a Tech Teacher© is a group of teachers, passionate about technology in education, who run the an award-winning resource blog Ask a Tech Teacher © with more than 75,000 visitors a month in search of teaching materials and advice. It offers oodles of free lesson plans, pedagogical conversation, website reviews and more. Its free newsletters and website articles are read by thousands, including teachers, homeschoolers, and anyone serious about finding the best way to maneuver the minefield of technology in education.