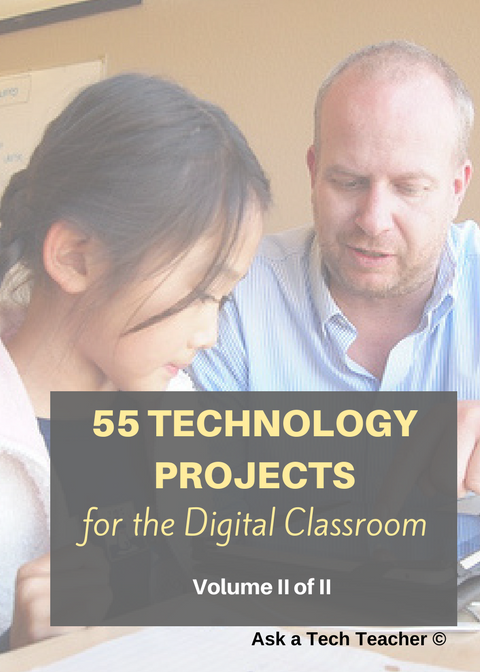 K-8 Lesson Plans–Volume II
Description
55 K-8 lesson plans that cover keyboarding, language arts, math, problem solving, science, using programs like KidPix (or the Free TuxPaint), MS productivity software, Google Earth, typing programs, email, Web 2.0 tools (blogs, wikis, internet start pages, social bookmarking and photo storage), Photoshop (or the free GIMP), and Celestia. This is an all-in-one K-8 toolkit  (Vol 2 of 2) for the lab specialist, classroom teacher and homeschooler on how to integrate technology into language arts, geography, history, problem solving, research skills, and science with simple-to-follow projects tested on thousands of students just like yours. Each lesson includes standards met in higher-order thinking/technology/NETS-S, software and time required, suggested experience level of students, subject area supported, tech jargon used, step-by-step lesson plans, extensions for deeper exploration, troubleshooting tips, and project examples including reproducibles and grading rubrics.
Additional items are wall posters to explain basic concepts, suggestions for the all-important keyboarding training, articles from the award-winning Ask A Tech Teacher blog on pedagogy, and dozens of online websites to support a variety of classroom subjects. Tech programs used are Also included is an Appendix of hundreds of age-appropriate child-friendly websites organized by grade and topic. Skills taught include collaboration, communication, critical thinking, problem solving, decision making, creativity, digital citizenship, information fluency, presentation, and technology concepts.
In short, it's everything you need to successfully integrate technology into the twenty-first century classroom.
Detail on Tech Lesson Plans–VII

Digital delivery only: 169 pages
Publisher: Structured Learning; Fourth Edition (2020)
Language: English
ISBN-13: 978-0978780098
Product Dimensions: 11.6 x 9.7 x 0.9 inches
Part 2 of a 2-volume Kit. Click for Volume I
Curious? Download a sample:
Lesson plan summary of all lessons–55 in Volume I and 55 in Volume II–is here:
Just click to download.
 Reviews (on 55 Lesson Vol. I/II)
---
Being a new ECS, this came in very handy. –TPT Customer

---
A great product that provides great lesson plans  —TPT Customer
---
I am a first-year technology teacher and this is a real life-saver. So many useful ideas and lessons! Thanks so much. I can't wait to get started!  —TPT Customer
---
I'm excited to implement these projects. Also, thanks for the quick response to my question. —TPT Customer
---
A great product. thankyou- you saved me. –TPT Customer

---
Congrats on a fantastic teacher resource. highly recommended for classroom teachers interested in ICT integration in the classroom.  —TPT Customer
---
About the Author
Jacqui Murray has been teaching K-8 technology for 15 years. She is the editor of a K-8 technology curriculum, K-8 keyboard curriculum, K-8 Digital Citizenship curriculum, and creator of technology training books for how to integrate technology in education. She is the author of the popular Building a Midshipman, the story of her daughter's journey from high school to United States Naval Academy. She is webmaster for six blogs, an Amazon Vine Voice book reviewer, Editorial Review Board member for Journal for Computing Teachers, presentation reviewer for CSTA, Cisco guest blogger, a columnist for Examiner.com, featured blogger for Technology in Education, IMS tech expert, and a monthly contributor to TeachHUB. Currently, she's editing a techno-thriller that should be out to publishers next summer. Contact Jacqui at her writing office or her tech lab, Ask a Tech Teacher.