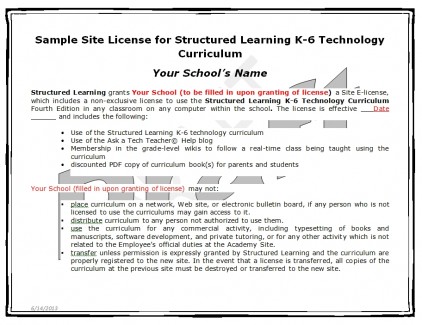 Are you a District struggling to meet Common Core standards that integrate technology seamlessly into classroom units of inquiry? Are you wondering, How can students fulfill these requirements without basic technology skills?
And, they must be delivered exactly like the core curriculum–standardized across grade levels and school sites.
You need a Structured Learning curriculum license.
Benefits of a License:
Access to full PDF or video (in the case of video training) from every recognized digital device, 24 hours a day.
Maximize productivity while minimizing cost. Tech textbooks, curricula, lesson plans, videos are available in the computer lab, the library, the classroom, the laptop carts and the iPads for the same low fee
Free Help provided via Ask a Tech Teacher (staffed by teachers who use the SL curricula, ebooks, videos)
Free training and enrichments provided through grade-level wikis (K-5 tech curriculum only)

District License includes mentoring for new teachers. These are delivered via email, Skype, or Google Hangouts, by appointment. They address how to implement lessons in textbooks or related new-tech-teacher issues
District License (one grade-level PDF or any other SL textbook, i.e., keyboard curriculum, digital citizenship curriculum, Common Core or 15-hr video keyboarding class)
Install pdf or video link on any computer, iPad, laptop throughout the District. Perfect for multiple grade-level classrooms, multiple computer labs, laptop carts, classroom iPads,

How many pdfs or video collections would you like?