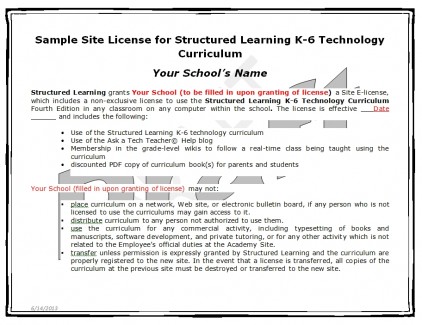 What's a Room License? This is a specially-designed PDF that can be copied to as many as 26 digital devices–iPads, laptops, netbooks, Chromebooks, smartphones, iPods in one classroom/library/lab .
..
Purchase a Room License for:
It is perfect for private schools, independent schools, charter schools, public schools–any school with multiple computer labs, classroom computer pods, 1:1 programs. Ordered separately, these 26 digital textbooks could cost well over $300. With a Room License, it costs only $150 per PDF. Special discount for purchase of the entire K-8 technology curriculum (see second option below).
..
Benefits of a Room License for School:
access to full text PDF(or videos where relevant) from every recognized desktop, 24 hours a day.
allows schools to maximize productivity while minimizing costs. Tech textbooks (or videos where relevant) are available in the computer lab, the library, the classroom, the laptop carts and the iPad carts for the same low fee
District Licenses include mentoring for new teachers (two hours for single PDF and five hours for 7-volume set). These are delivered via email, by appointment. They address how to implement lessons in textbooks or related new-tech-teacher issues
articles enabling teachers to dig deeper into relevant topics
free online Help provided via the Ask a Tech Teacher blog (staffed by teachers who use SL resources) and the grade-specific wikis (for tech curriculum). This is unique to Structured Learning's technology curriculum, something you will find with no other provider.

free desk copy of print book for teacher use (if available in print)
..
Benefits of Room License for Students:
easy access to monthly lessons, how-tos, rubrics, project samples, practice quizzes, grade-level expectations, homework, images (showing how to hold the mouse, for example), check lists (the grade level Scope and Sequence and the Ready to Move On monthly keyboard workbooks lists, for example)
quick links to websites required in lessons
convenient place to take notes on their keyboarding
encourages students to be independent and self-directed in their learning, work at their own pace rather than a subjective class pace. This is great both for students who need more time on a topic and for those who 'get it' fast and want to move on
quick way to spiral up to the next grade level for quick learners or back to earlier resources for student needing to fill holes in their learning
access to 12 companion videos (with keyboarding curricula license only) that take them through each month of their keyboarding journey. They're approximately one hour and can be viewed at the student's pace
Additionally, with each Room License, you get:
a print copy of each ebook selected (except international or books only available digitally)

free access to curriculum help blog, Ask a Tech Teacher.
free membership to each grade-level wiki (K-5 tech curriculum only). This is updated weekly via video with what is happening in a real-time classroom that uses the Structured Learning technology curriculum. Your teachers will see how the pieces of the Structured Learning curriculum work together and be able to share thoughts via the Discussion tab.
..
How many would you like?
[contact-form][contact-field label='Name' type='name' required='1'/][contact-field label='Email' type='email' required='1'/][contact-field label='School/District' type='name'/][contact-field label='Which license are you interested in?' type='select' options='Room,School,District'/][contact-field label='How can we help you?' type='textarea' required='1'/][/contact-form]
This slideshow requires JavaScript.