If you want a self-managed online keyboarding class that you can complete in your own time, at your own pace, start and stop when you need to, this is perfect. Join us for  fifteen classes, one hour each, that can be spread out over fifteen weeks or the entire school year.
A Note: These were taped over the summer for the 15-week Summer Keyboarding class so you'll see references to that sort of terminology. As long as you're doing the videos in chronologic order, you're fine.
Keyboarding materials you get
Here's what you get with the membership fee:
15 hours of video training on keyboarding–perfect for a full year of self-paced keyboarding for a student (see sample below)
an overarching K-8 keyboard curriculum
membership in the Keyboarding Wiki
What's required
Here's what's required:
access to the internet
a full-size keyboard (not an iPad)
The goal: Prepare students for the academic demands, improve typing skills, and provide student a facility with technology.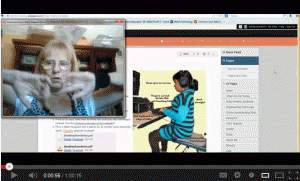 Keyboarding Schedule
Here's how it goes:
start the fifteen weeks with a benchmark speed quiz to see where students are at the beginning and assess how they finish up.
start each class with keyboarding–Typing Web or DanceMat Typing. You can even use whatever keyboarding program you use in your school (Typing Club, Type to Learn–you name it). I like DanceMat because it introduces keys by rows, which works with my class structure. Students also like it because of the crazy stuff the action characters do. By the end of Video Two, students must cover their hands with a light cloth to test their key knowledge.
a couple of times a week, exercise fingers to remind students that they are all their–not just pointers or thumbs.
every five sessions, take a blank keyboard quiz to promote confidence in letter key placement. Students need to believe in themselves–that they know where keys are without looking at the keys. Of course, taking the quiz will be on the honor system. If students look at the keyboard during the test, they are the ones to suffer, no one else.
daily, a variety of keyboarding games to test speed and accuracy of student typing
once a week, we do something fun (that reinforces technology skills). After four sessions of keyboarding, I want students to see how it is used in environs different from straight typing (like creating a Tagxedo)
Keyboarding Goals
Here's what students will accomplish:
most students increase their speed by about 20%, through a better understanding of where keys are and employment of proper keyboarding habits. Most students who attend a school that requires a nominal amount of online classwork keep this increase because they use their new skills daily
students have resources they can draw on to carry them through the school year after they run out of the taped lessons. This means, when they realize they need better keyboarding skills to accomplish class requirements, they will be able to take responsibility for their own learning.
students find they enjoy keyboarding–a major victory considering the amount of memorization required
Cost stuff
Fee below is for a single-user license for 15 video sessions.  You can also purchase a multi-user license for a class (up to 26 seats–enough for your entire class), a site, or a District.
Sign up now before we run out of room!
Questions? Ask Zeke.Rowe@structuredlearning.net