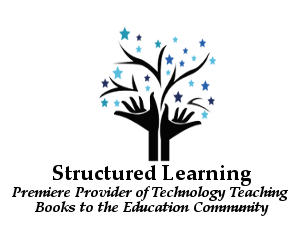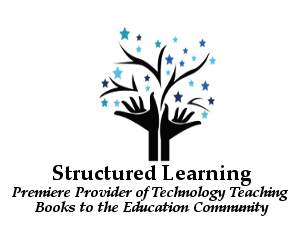 Structured Learning LLC©–Established in 2004, Structured Learning is the premier provider of technology instruction books and ebooks to education professionals. All materials are classroom-tested, teacher-approved with easy-to-understand directions supported by online materials, websites, blogs, and co-teaching educator forums. Whether you are a new teacher wanting to do it right or a veteran educator looking for updated materials, Structured Learning and its team of tech ed professionals is there to assist you.
Where you can find our resources:
Structured Learning LLC© IT Team
Structured Learning is a group of tech ed professionals that collaborate to write the books you need to integrate tech into the classroom experience.  It includes:

Ask a Tech Teacher© a group of technology teachers who pool their knowledge and time to share resources, ideas, lesson plans, and more on the award-winning Ask a Tech Teacher blog. It has more than 75,000 visitors a month in search of teaching materials and advice, offers oodles of free lesson plans, pedagogical conversation, website reviews and more. Its free newsletters and website articles are read by thousands, including teachers, homeschoolers, and anyone serious about finding the best way to maneuver the minefield of technology in education. Contact them at askatechteacher@gmail.com.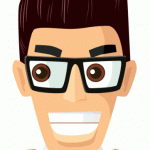 Zeke Rowe—the onsite expert in our products. You can reach him via email with any question you have. If he doesn't know the answer, he'll find someone who does. Contact Zeke at Zeke.Rowe@structuredlearning.net.

Kali Delamagente—our tech-teacher-in-residence and knows everything about the curriculum products. She stays on top of all things technology-in-education–trends, issues, standards. Email her with any questions in that field. Contact Kali at Kali.Delamagente@structuredlearning.net.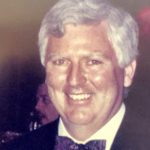 John Murray—our chief. Sales questions? Marketing? He's your guy. Just don't expect him to know how to use KidPix! Contact John at John.Murray@structuredlearning.net

Our Advisory Board
Included in the Structured Learning Advisory Board are the individuals who have their pedagogic thumb on classroom activity, the opinion leaders interested in guiding future curriculum direction and providing us with advice on how we as a publisher can continue to keep teachers on top of an ever-changing tech world. These professionals will advise us on everything from books that we need to publish to changes in the industry. We're excited to introduce them!

Patrice Gans-–Ms. Gans has an MS in Computer Science with a Post Baccalaureate in Elementary Education. She has been teaching K-8, most recently at Fraser-Woods School in Connecticut. She is Computer Science Teacher Association National K-8 Rep and Chair of  CSTA's K8 Task force. She brings a wealth of knowledge in technology and its specific application to the classroom teacher.
---
Cheryl Lyman–Ms. Lyman holds an MBA as well as a Masters in Education with 12 years experience teaching K-12 computer science, most recently at McDonald Elementary in Pennsylvania as Instructional Technology Specialist. Awards include Classrooms of the Future Coach, Ed Tech Leader of the Year Semifinalist, PA Keystone Technology Integrator, PA State Peer Reviewer, and Pennsylvania Teacher of the Year Semi-finalist. We look forward to her knowledgeable insights in curriculum development and technology integration into the classroom.
---

Colleen McColgan–Ms. McColgan is an Instructional Technologist  in Arlington, TX. She will complete an M.Ed from Lesley University with a concentration in Tech Ed Spring 2013. She is a Certified Campus Technology Specialist, and Google™ Qualified Individual for Google Apps for Education. Prior to teaching, Ms. McColgan had an eighteen-year career as a textbook editor working with various major publishing names. We are excited about her hands-on knowledge of both tech in the classroom and publishing practices, and look forward to her insights and suggestions.
---
Dr. Veronica McGowan—Dr. McGowan holds a PhD in Academic Leadership from Widener University, a Masters in Elementary Ed with a K-12 Special Ed certificate, and a Bachelors in Computer Science. She has taught K-16 computer science for over twenty years, most recently as Director, Intergenerational Computer Center at Oklahoma City University.  She serves as President-Elect ISTE SIGCT, Editor-in-chief Journal for Computing Teachers, on the Editorial Review Board for International Journal of Multicultural Education and the International Journal of Qualitative Studies in Education, and as a Peer Reviewer for CSTA's Conference. She holds 7 certificates at national colleges and University. She is the author of ten peer-reviewed articles in her field and one book. She has developed curriculum for k-12 for the past 20 years and  brings a wealth of experience, knowledge, and ideas to Structured Learning. We look forward to her insights.
---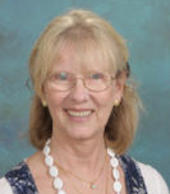 Jacqui Murray—Jacqui Murray has been teaching K-18 technology for 25 years. She is the editor/author of over a hundred tech ed resources including a K-8 technology curriculum, K-8 keyboard curriculum, K-8 Digital Citizenship curriculum. She is an adjunct professor in tech ed, CSG Master Teacher, webmaster for four blogs, an Amazon Vine Voice book reviewer, CAEP reviewer, CSTA presentation reviewer, freelance journalist on tech ed topics, and a weekly contributor to TeachHUB. You can find her resources at Structured Learning.
 _____________________________________________________________________________________________
About Structured Learning LLC…
Need a technology curriculum that is project-based, curriculum-specific and integrates Web 2.0 tools into the classroom? Sounds complicated, but it's easy.
Textbooks: A year's worth of lessons, differentiated by grade level. Students learn MS Word, PowerPoint, Excel, Publisher, Google Earth, Photoshop, keyboarding, problem-solving–all incorporated into core classroom inquiry. Perfect for homeschooling, the lab professional, the classroom teacher.  Besides step-by-step lessons, workbooks include extras like safe websites, grading rubrics, vocabulary and problem-solving tips. Each lesson matches skills learned to national NETS-S technology standards. 
Project Bundles: Four-five lessons, step-by-step instructions, suggested background, key vocabulary, extensions for advanced students, national technology standards satisfied, higher-order thinking addressed, trouble-shooting  tips, grading rubrics, samples and reproducibles. 
Classroom Management tools: Posters, tech tips, and more
Tech-in-a-box: includes everything your tech teacher requires to get up and going the first day of school
Site License: Need more than a teacher copy of a book? We offer licenses to enable you to share a pdf with an entire class, school, and/or district. That includes desktop computers, laptops, iPads, smartphones–whatever devices you use to teach technology
Mentoring: Would you like training to show teachers how to use the textbooks? We offer onsite training, real-time web-based training, and/or email.
Online Classes--keyboarding, co-teaching wikis and more. Check back often to see what else we've added.
Please click this link for testimonials from customers and a partial list of schools using our edtech resources.